28th June 2018 Content supplied by: Synbiosis
New Software Improves Antibiotic SIR Determination Using Latest EUCAST Rules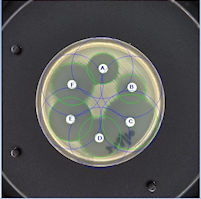 Synbiosis announces its eAST software for automatic zone measurement of antimicrobial susceptibility testing (AST) plates has been upgraded to improve antibiotic SIR (Susceptible, Intermediate, Resistant) category determination. The new software rapidly generates and analyses AST data, making it ideal for use in regulated clinical and antibiotic development laboratories.
The new eAST software now has all the 2018 breakpoint values for European Committee on Antimicrobial Susceptibility Testing (EUCAST) and Clinical Laboratory Standards Institute (CLSI) guidelines included in its expert rules database. Using the software, microbiologists can in less than half the time it would take to analyse breakpoint results manually, automatically compare zone measurements to current breakpoint values and obtain a list of SIR categories, as well as determine antibiotic efficacy and produce guidelines for treatment options.
The plate images can be stored in a secure SQL database for cross reference and numerical data can be transferred to a spreadsheet (Excel/ OpenOffice) or LIMS. This eliminates keying and data transfer errors, producing fully traceable results, which are consistent from microbiologist to microbiologist.
The software is GLP and GDP compliant and can be used in a 21 CFR Part 11 environment because it has user access levels and a full audit trail with user login in and logout records. These archived results are suitable for generating reports for audit by regulatory authorities and can also be used in hospitals wanting to identify and monitor incidence of microbial resistance, making the new eAST software suitable for use in highly regulated microbiology laboratories.
The eAST software is included in the IVD-registered ChromaZona as standard and is available as an optional module for ProtoCOL 3 systems. Scientists wanting to find out more about the new eAST software upgrade should click the following link: www.synbiosis.com/product/east
Existing eAST software users can download the upgrade free of charge from this link: www.synbiosis.com/support/software-downloads
"EUCAST and CLSI breakpoint values are the most popular worldwide guidelines for AST work but manually analysing the data is error prone and subjective," explains Kate George, Sales and Technical Director at Synbiosis, "Adding the most up-to-date values to upgrade the software provides an excellent solution to this problem. We're confident that microbiologists using our new eAST software can both rapidly and accurately determine the efficacy of their antibiotics or diagnose which antibiotic to use to treat serious microbial infections."
Please note : Any products described on this page are for Research Use Only and not intended for clinical diagnostic procedures unless otherwise stated.
Tags:
Date Published: 28th June 2018
Source article link: View
Related news