21st June 2016 Content supplied by: INTEGRA Biosciences AG
Multichannel Manual Pipette Sets Volumes 10x Faster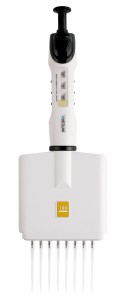 INTEGRA announces the launch of eight and twelve channel versions of its innovative EVOLVE manual pipette.
Unlike traditional pipettes which utilize a single rotating plunger to set volumes, the EVOLVE features three adjustable dials for setting each individual volume digit. Simply depress and twist the plunger to unlock the volume dials. Once unlocked, freely adjust the three dials to rapidly set the desired volume. This revolutionary approach allows users to set volumes more than ten times faster.
Covering a volume range of 1 – 200 µl, the ultra-lightweight, well balanced design of the 8- and 12-channel versions of the EVOLVE pipette are able to enhances productivity and comfort even during prolonged pipetting sessions.
EVOLVE Manual pipettes are optimized for use with INTEGRA's wide range of GripTips pipette tips. GripTips snap into place with minimal tip loading effort, providing a secure connection. GripTips never fall off and are perfectly aligned, resulting in superior accuracy and precision.
The new INTEGRA linear stand can accommodate up to thirteen EVOLVE pipettes. Users can simply add up to four charging / communication stations to convert the linear stand into a charging stand to charge any INTEGRA electronic pipettes.
For further information on the EVOLVE Manual pipette range please visit  or contact INTEGRA Biosciences in Europe / Asia on +41-81-286-9530 / info@integra-biosciences.com or in North / South America on +1-603-578-5800 / US@integra-biosciences.com.
Please note : Any products described on this page are for Research Use Only and not intended for clinical diagnostic procedures unless otherwise stated.
Tags:
Date Published: 21st June 2016