22nd September 2015 Content supplied by: Integra
INTEGRA Reagent Reservoirs Explained by SimpleShow Video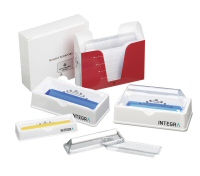 A new short and engaging SimpleShow' format video from INTEGRA introduces and explains the unique features and benefits of their Multichannel Pipette Reagent Reservoirs.
The video features the continuing story of animated lab heroes Mason and Mary. Watching this funny video you will learn about how INTEGRA 10ml, 25ml and 100ml Multichannel reagent reservoirs are designed to nest inside each other, making it possible to get twice as many reservoirs in half the space of other products, reducing inventory space requirements and shipping costs.
Unlike traditional reservoirs that have hard to see graduations moulded directly into the plastic, INTEGRA reservoirs are made of crystal clear polystyrene and fit into a reusable base with bold, crisp, clearly visible graduation markings. This unique design allows you to more accurately measure reagents. Each reagent reservoir also has a pour back spout enabling you to return excess reagent to a source container thereby reducing waste.
The unique trough within a trough design of INTEGRA reagent reservoirs is more accessible for pipette tips and reduces dead volume. INTEGRA reagent reservoirs can also be used as lids for short term storage minimizing both reagent evaporation and potential contamination from particulates.
To watch the video please visit www.integra-biosciences.com/sites/video/simpleshow-reservoir.html. For further information contact INTEGRA Biosciences in North / South America on +1-603-578-5800 / US@integra-biosciences.com or in Europe / Asia on +41-81-286-9530 / info@integra-biosciences.com
Tags:
Date Published: 22nd September 2015
Source article link: View