14th March 2014 Content supplied by: INTEGRA
INTEGRA Announce 384-Well Reagent Reservoirs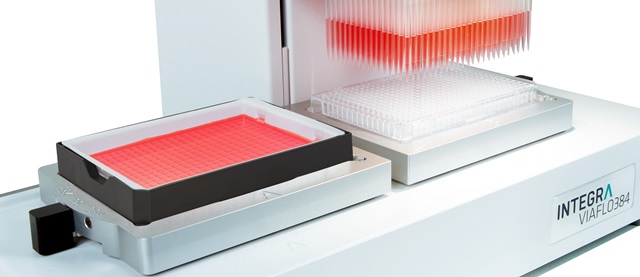 Adopting a standard ANSI/SLAS footprint - INTEGRA 384-well reagent reservoirs (100ml) are fully compatible with all liquid handling systems including the VIAFLO 384 Handheld Multichannel Electronic Pipette. 384 individual pyramidal indentations in each reagent reservoir allow maximum liquid recovery when using a VIAFLO 384 electronic pipette as well as other platforms.
VIAFLO multichannel reagent reservoirs are both economically and environmentally friendly because users can reuse the reservoir base and dispose of the reservoir inserts. These reagent reservoirs are also designed to nest within one another without sticking and come in compact, space-saving packages.
For further information on VIAFLO multichannel reagent reservoirs please visit www.integra-biosciences.com/sites/us/reagent_reservoirs.html or contact INTEGRA Biosciences in Europe / Asia on telephone +41-81-286-9530 / email info@integra-biosciences.com or in North / South America on telephone +1-603-578-5800 / email US@integra-biosciences.com.
Please note : Any products described on this page are for Research Use Only and not intended for clinical diagnostic procedures unless otherwise stated.
Tags:
Date Published: 14th March 2014
Source article link: View