9th April 2013 Content supplied by:
Granulated Culture Media for Increased Ease of Use and Safety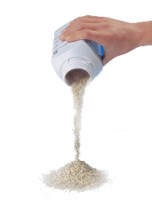 Merck Millipore's granulated culture media make media preparation fast, easy and safer. Unlike powdered media, granulated media compacts fine particles into small, uniform granules thus reducing dust generation, dispersion, and the risk of inhalation of hazardous or toxic substances. Granulated media have better flow properties than conventional media. As a result, they pour cleanly into a flask or container without contaminating other equipment. The media do not stick to surfaces but readily sink to the bottom and dissolve more rapidly than powdered media.
Merck Millipore's line of granulated media are of highly accurate, uniform and consistent composition. Even under humid or warm conditions, media components do not disintegrate or form clumps. The granulation process provides for homogeneous distribution of ingredients within the granules, ensuring consistent, reproducible media even when using only small amounts. Additionally, the granulated format extends shelf life for up to five years compared to the average three-year life of common powdered media.
For more information about Merck Millipore granulated culture media
Please note : Any products described on this page are for Research Use Only and not intended for clinical diagnostic procedures unless otherwise stated.
Date Published: 9th April 2013