4th September 2012 Content supplied by: TSC
Free up Freezer Space for Microbes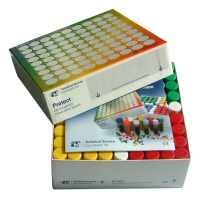 From September 2012, Technical Service Consultants new Protect Multipurpose and Protect Select range will save customers over 70%* in freezer space with a re-design of its packaging using a new moisture resistant, fibreboard freezer box.
Benefits include: Over 70% reduction in size Moisture resistant lid and base Reference grid on lid and in base Fits universal freezer rack systems Easy-lift lid
Protect, the original bead micro-organism preservation system is ideal for long term maintenance of stock and quality control of microorganisms including bacteria, yeasts and moulds.
TSCs cryopreservation beads are chemically treated and immersed in a specially designed cryo-solution, that prevents damage whilst frozen and facilitates the perfect conditions for long term storage of organisms.
TS/80 Protect Multipurpose range contains 80 colour coded vials (Blue, White, Green, Yellow and Red), with 16 of each colour in TS/80-MX (mixed).
TS/73 Protect Select range offers the end user a specialised range created to optimise recovery without extra workload. Protect Select Anaerobe, Dairy, Yeast and Mould and Meat Free will now be offered in packs of 80 and 25.
For further information or samples of protect visit: www.tscswabs.co.uk/ or call +44(0)1706 620600.
 * - size by volume, based on original packaging
Please note : Any products described on this page are for Research Use Only and not intended for clinical diagnostic procedures unless otherwise stated.
Tags:
Date Published: 4th September 2012
Source article link: View