2nd April 2013 Content supplied by: Merck Millipore
EZ-Product Family for Bioburden Analysis and Microbial Detection in Beverages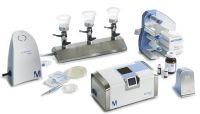 Merck Millipore's EZ-product family is designed to facilitate microbiology workflow in quality assurance and quality control (QA/QC) laboratories for the beverage industry. The EZ-product family includes solutions to provide optimal performance and streamline bioburden analysis workflows.
The EZ-Fluo™ Rapid Detection System is a non-destructive, fluorescent staining-based system for rapid detection and quantification of microbial contamination in filterable samples. The EZ-Fluo™ system reduces time to result by approximately 2/3 compared to traditional methods.Whether for traditional microbial detection or sample prep for the EZ-Fluo™ system, every membrane filtration experiment requires a manifold, a membrane and a vacuum source. The EZ-Fit™ Manifold for universal filtration includes quick-fit connections for assembly and disassembly without tools. Different filtration heads make the manifold compatible with disposable filtration devices, stainless steel and glass funnels.
Additionally, the EZ-Pak® Dispenser Curve provides sterile membrane dispensing, in less than 30 seconds, with no-touch operation and quick and easy membrane loading and the EZ-Stream™ Pump eliminates the need for intermediate waste containers; fluid flows directly through the pump to waste. It is designed for quiet operation, and the vacuum level is compliant with regulatory standards.
Click here for more information about the EZ- product family.
Tags:
Date Published: 2nd April 2013
Source article link: View
Related news