7th January 2013 Content supplied by:
EntericBio realtime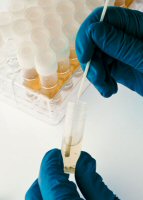 Revolutionising Faecal Pathogen Testing
Screen Four Faecal Pathogens on One Test within 3 Hours
5 targets detected in one test
i. Campylobacter, ii. Shigella, iii. Stx 1 iv. Stx 2 v. Salmonella
Simple 3-Step Test Process - designed by Medical Scientists for Medical Scientists
Ease of Use - no DNA extraction, no reagent preparation, no manual pipetting,...
Fast results - revolutionises Faecal Pathogen Testing from previous 3-day process
Cost effective
EntericBio realtime is the new Gold Standard test for screening of faecal pathogens
Clinical evaluation results prove that EntericBio realtime is more sensitive than standard culture tests.
Fast, Accurate, Reliable, Efficient Easy to use .. For more information visit: Serosep
Please note : Any products described on this page are for Research Use Only and not intended for clinical diagnostic procedures unless otherwise stated.
Date Published: 7th January 2013