5th June 2018 Content supplied by: Copan Diagnostics, Inc.
COPAN Defining the Future of Human Robot Collaboration in Clinical Microbiology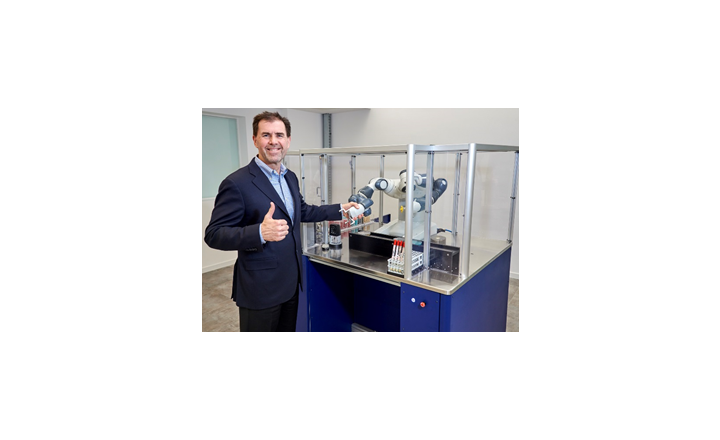 COPAN is proud to announce its North American launch of COPAN's new Collaborative Robot, its latest technology for Full Laboratory Automation. COPAN's Collaborative Robot is the next generation of COPAN's unique solutions in full laboratory automation, applied robotics and use of Artificial Intelligence (AI). The Collaborative Robot automatically manages many manual microbiology processes done at the laboratory bench, such as processing traditional fiber swabs, positive blood culture bottles, tissues, wound aspirates, and sterile body fluids. Technologists simply scan the specimen barcode, and the robot presents the precise sequence of pre-labeled plates or tubes. After the plates are manually seeded, the Collaborative Robot streaks the plates and places them on the conveyor track to the WASPLab™ incubators. The Collaborative Robot can also be used to automatically seed MALDI-TOF slides and setup AST/ID panels.
Known for its safe interaction with humans, the dual-arm collaborative industrial robot is new technology that is used in industrial manufacturing settings. Pioneered by COPAN, this is the first time this technology is applied to Clinical Microbiology. Using this robot, COPAN has developed robust applications that can improve traceability, and reduce transcription and transposition errors from manual processes.
"Since the first prototype of WASP® in 2007, COPAN has continued to push the boundaries of automation and technology in a Microbiology setting. We took our experience from our manufacturing floor, including our experience with SCARA robots, and condensed it on a benchtop size instrument for what was then a revolutionary invention, WASP®. From a hardware point of view, WASP® was followed by WASPLab™, Colibri, and WASP-FLO™. The introduction of the Collaborative Robot is another big leap forward, and it is in line with COPAN's track record of using the latest robotic technology available creatively to advance Microbiology and improve patient care," stated Norman Sharples, CEO of COPAN Diagnostics, Inc.
COPAN's vision of openness, modularity, and scalability is captured by the mobility of the Collaborative Robot to plug into different Work-Pods within the laboratory. The multipurpose collaborative robot can be easily moved between Work-Pods, as needed, expanding its usefulness.
"Processing traditional swabs, positive blood cultures, and setting up MALDI-TOF slides and AST/ID panels are laborious tasks in the laboratory but require precision and dexterity. In an age of increasing workloads and diminishing resources, those tasks can be performed by COPAN's Collaborative Robot, while highly qualified laboratory professional can focus on esoteric tasks that require their experience, knowledge and training. We are very excited for this new addition to our product line and its positive impact on the lab and on patients" concluded Sharples.
This innovative Collaborative Robot, along with COPAN's full line of automation, AI algorithms and collection and transport systems will be displayed by COPAN while attending the ASM Microbe 2018 General Meeting, in Atlanta, GA from June 7 to 11, 2018 at booth #2021 and at 70th AACC Annual Scientific Meeting & Clinical Lab Expo in Chicago from July 29 to August 2, 2018 at booth #4205.
Visit www.copanusa.com
Please note : Any products described on this page are for Research Use Only and not intended for clinical diagnostic procedures unless otherwise stated.
Tags:
Date Published: 5th June 2018
Source article link: View
Related news