1st July 2013 Content supplied by: CEERAM
Ceeram gains ISO9001/ISO13485 Laboratory and Food Safety Innovation Award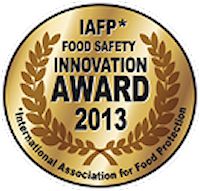 'A true guarantee of professionalism and reliability for CEERAM, this dual certification perfectly reflects our main goals that are the customers´ needs anticipation, the satisfaction of their requirements and the continuous improvement of our products´ and services´ quality' says Benoît LEBEAU, CEO at CEERAM.
'Considering our size, we are very satisfied to have obtained in such a short time span, the dual certification ISO 9001 & ISO 13485 that will reinforce CEERAM´s positioning on the global market. It is a true corporate project that federated and boosted our Team around a mutual goal : the satisfaction of our customers.
| | |
| --- | --- |
| | |
These certifications are rewarding our methodologies, our organization and the processes implemented for the sake of our customers. Furthermore, this is at a key moment , when CEERAM strengthens its partnerships, and continues launching its specific range of products on the Human Health market segment'.
CEERAM is the recipient of this year's FOOD SAFETY INNOVATION Award at the IAFP, Charlotte, NC, USA. 'This Food Safety Innovation Award rewards 8 years of Research and Development in the Field of Food Safety' says Dr. Fabienne LOISY, CSO at CEERAM. 'Virus testing by Real Time RT-PCR in complex matrices is becoming routine in many major labs, and the last Hepatitis A Virus outbreaks in Europe and the USA demonstrate the need to implement such testing on a larger scale. Our ceeramTools™ RTPCR kit range offers the right solution.'
Come and visit us at Booth 522
July 30, 2013 from 8:30 AM to 8:45 AM at IAFP, Charlotte, NC, USA
Date Published: 1st July 2013
Source article link: View