10th June 2008 Content supplied by:
Campylobacter Culture from Lab M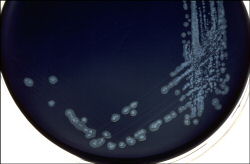 According to the UK's Food Standards Agency cases of the top two food poisoning bacteria, Salmonella and Campylobacter are set to soar to more than 120,000 in just 3 months over the summer.
Primarily associated with undercooked meat and poultry, Campylobacter infection is characterised by severe diarrhoea and abdominal pain. Campylobacter jejuni and C. coli are the two main pathogens responsible for Campylobacter enteritis, and early diagnosis by culture and isolation can enhance clinical investigation and epidemiological studies.
The isolation and identification of enteric Campylobacter is important in both the food and clinical microbiology laboratory. Lab M's extensive range of culture media includes both campylobacter Blood Free Selective Medium (modified CCDA) and campylobacter Enrichment Broth (Bolton formulation).
campylobacter Blood Free Selective Medium is an improved version of CCDA (charcoal-cefoperazone-deoxycholate agar). Selective for C. coli, C. jejuni and C. lari at 37°C, it eliminates the need to incubate at 42°C and supports the growth of most enteric Campylobacter.
campylobacter Enrichment Broth (Bolton formulation) is a selective enrichment broth for the isolation of Campylobacter spp. from food, environmental samples and faeces. It enhances the recovery of organisms that are sub-lethally damaged as a result of food processing, and also of Campylobacter present only in small numbers within heavily contaminated samples.
Tags:
Date Published: 10th June 2008