Biological Liquid Waste Disposal – Hints & Tips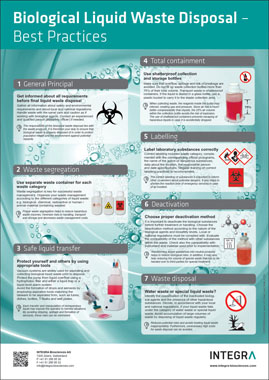 Drawing upon decades of vacuum aspiration experience - INTEGRA has compiled an unbiased series of hints and tips to help you improve your safe and efficient disposal of biological waste.
In this new highly informative illustrated 'Best Practices' guide, expert advice is provided in areas including getting to know about safety and environmental requirements,waste segregation, safe liquid transfer, waste containment, correct labelling and disposal. Each area of best liquid waste disposal practice discussed is backed up with an explanation of why this produces optimal results.
To download a pdf version of this new poster in English, German or French please visit www.integra-biosciences.com/
Tags:
Date Published: 4th January 2016
Source article link: Integra Biosciences