26th June 2012 Content supplied by:
Automated Food Pathogen Testing for Low to Medium Volume Labs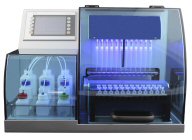 BIOTECON Diagnostics GmbH Potsdam, Germany and HTI bio-X GmbH Ebersberg, Germany announce their new OEM partnership in June 2012: Based on HTI's Robotic Workstations BIOTECON Diagnostics will exclusively distribute worldwide their own automation solution for the food sector, the "foodproof® RoboPrep X-Tract powered by HTI".
Combined with BIOTECON Diagnostics' foodproof® Magnetic Preparation Kit and foodproof® real-time PCR based pathogen detection kits (e.g. for Salmonella), the foodproof® RoboPrep X-Tractis the perfect solution for automated food analytics.
The foodproof® RoboPrep X-Tract is ideal for labs with low to medium sample throughput and, besides the "foodproof® RoboPrep+ powered by Xiril" high-throughput device, already the second automated workstation for DNA-based testing, specially adapted for food monitoring.
HTI bio-X and BIOTECON Diagnostics share many synergies and both companies look forward to introducing this innovative and as well favorable automation technology.
"This cooperation is another important step for us in the global expansion of our markets, in which automation and standardization of processes has become increasingly important," says Kornelia Berghof-Jäger, Chief Executive Officer (CEO) of BIOTECON Diagnostics.
"The strength of our automation systems lies in focused product development based on clients' needs: Our automated magnetic preparation technology in combination with HTI's compact device solution unites highest purity and robustness with the speed and convenience of fully automated workflow." emphasizes Alois Schneiderbauer, Chief Business Officer (CBO) of BIOTECON Diagnostics.
"With this OEM partnership the existing relations and long term experience in good collaboration of the two companies will be consistently extended. At this, HTI considers itself yet again as reliable engineering contractor and partner for technologically demanding solutions." Wolfgang Heimberg, general manager of HTI bio-X, explains.
The foodproof® RoboPrep X-Tract is suitable for all fields in the food industry that perform pathogen testing at low to medium throughput. After intensive validation of the system at BIOTECON Diagnostics' laboratories, now a stepwise implementation of this technology for parameters, such as Salmonella, E.coli or Listeria, willfollow.
For more information please visit our website: www.bc-diagnostics.com.
Tags:
Date Published: 26th June 2012
Related news