7th February 2012 Content supplied by: Priorclave
Autoclaves for Designated CAT3 Laboratories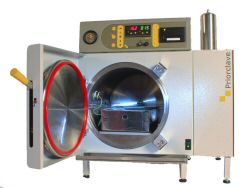 The Compact C40 vacuum autoclave is the first priorclave to become available with stand-off legs, providing easy access beneath the steam steriliser for cleaning and disinfection of laboratory work surfaces to prevent spread of virus and eliminate potential cross contamination.
This option plus the benefit of Biocote® antimicrobial surface protection makes the autoclave ideal for the demanding requirements of CAT3 laboratories.
The Compact C40 vacuum autoclave is a versatile wide-format priorclave with a 40l, front-loading chamber and incorporating pre-vacuum and post-vacuum cycles. The combination of the two vacuum phases makes the C40 steam steriliser ideal for laboratory waste, glassware and instruments as well as porous or wrapped goods. The pre-vacuum mode efficiently removes ambient air from the chamber and load, allowing steam to completely penetrate the product whilst the post-vacuum cycle pulls steam and condensate out of the autoclave during this drying phase, the longer the vacuum runs the cooler and dryer the load. The overall benefit is a faster cycle time, making the C40 priorclave suited to applications where a higher daily throughout is required or where delays in sterilisation are of concern.
As this model is ideally suited for installation in a CAT 3 laboratory it is fitted with an optional exhaust filtration system so that all autoclave exhaust is filtered.
In addition to the new stand-off legs, all Priorclave Compact C40 autoclaves are available with an extended range of optional features normally found only on much larger steam sterilisers. This creates a brand that can turn its steam sterilisation capability to many business sectors including food, drink, dairy, pharmaceutical, veterinary, agricultural, education, healthcare, research establishments as well as industrial laboratories.
Please note : Any products described on this page are for Research Use Only and not intended for clinical diagnostic procedures unless otherwise stated.
Tags:
Date Published: 7th February 2012
Source article link: View