30th January 2017 Content supplied by: Synbiosis
Accelerate Your Workflow in the Microbiology Laboratory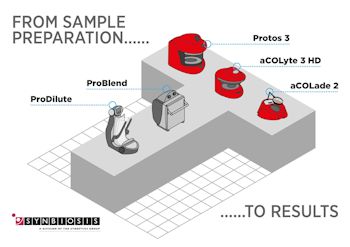 Synbiosis will be showing its innovative range of time-saving equipment for microbiology applications on Stand 140 at ARABLAB 2017 on March 20th-23rd. The systems on display are guaranteed to improve productivity and accuracy of sample preparation and colony counting tasks. On Stand 140 will be:
ProDilute - a next generation, precise gravimetric diluter accurately generating 1 to 1/100 sample dilutions.
ProBlend - a quiet, safe, easy-clean blender, which is fully compatible with the ProDilute will be live on stand. Using this great diluter and blender combination, assures precise, rapid processing of food, environmental and clinical samples every time.
Protos 3 - developed for easy set-up and rapid colony counting it can identify microbial species by their colour on chromogenic plates and is one of the world's only commercial colony counters to have this unique feature. The system provides accurate, objective, traceable GLP compliant results, making Protos 3 a great time saver and must-see product at ArabLab this year.
aCOLyte 3 HD - is an ideal choice for walk-away counting of colonies on pour and spiral plates.
aCOLade 2 - a manual colony counter with an illuminated pressure sensitive plate and large LED counting display is also on show and will suit any budget-conscious microbiologist.
"Busy microbiology labs often need great equipment to help increase throughput and improve their results." comments Kate George, Senior Divisional Manager at Synbiosis, "We are delighted to be showcasing our latest product range on Stand 140 at ARABLAB this year, and we're looking forward to explaining how their incredible performance will improve accuracy and increase productivity of microbial testing."
Tags:
Date Published: 30th January 2017
Source article link: View
Related news