Allergen Testing in Foods and Processing Areas
Introduction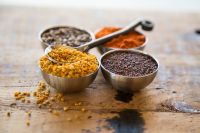 Food allergens are proteinaceous agents in foods that can trigger adverse immune reactions in certain people. Most of these reactions are mild and require no treatment. However, severe reactions can occur resulting in anaphylactic shock or even death. The symptoms vary depending on the type of food and the immune response of the individual. Most common symptoms include hives or other skin rashes, itching, swelling and difficulty in breathing or swallowing. Even trace amounts of an allergen can trigger the reactions.
Current Situation
According to recent research, an estimated 15 million people suffer from food allergies. In 2013 the CDC reported that between 1997 and 2011, food allergies among children have increased by approximately 50%. A study published in 2012 estimated the annual cost of childhood food allergies in the US to be around $25 billion in terms of medical costs, lost productivity and opportunity. Food recalls due to undeclared allergens are constantly happening with huge associated costs including brand damage, 2014/2105 saw one of the biggest food recalls due to allergens ever. It has been suggested that following a poor cumin harvest in India ground peanut and almond shells were deliberately added to the spice to 'bulk' up the product. This tainted product was then used to produce many different commercial spice mixes for sale in USA and European markets.
Major Food Allergens
Theoretically, almost any food product can be allergenic. However, only eight of them are responsible for more than 90% of all food allergies. They are milk, eggs, peanuts, tree nuts, wheat, soy, fish, and shellfish.
Labelling Requirements
Currently, there is no cure for food allergies. Although medications are available for controlling the allergic reactions, the safest method is to avoid any foods that are problematic. Since individuals with food allergies depend on the information on food labels, it is extremely important that the label contains a full list of potential allergens possibly present in that particular food. In the US, the Food Allergen Labelling and Consumer Protection Act requires the eight major food allergens to be declared, in simple terms, on the label of food products. EU food allergen labelling regulations mandate 14 food allergens to be indicated on food labels. The list contains cereals containing gluten, crustaceans, molluscs, eggs, fish, peanuts, nuts, soybeans, milk, celery, mustard, sesame, lupin and sulphur dioxide.
Methods available for detecting allergens in foods and processing areas
Immunology-based Methods
Immunological methods such as ELISA and immunochromatographic lateral flow devices are the most widely used techniques for allergen detection. These are based on the binding of specific antibodies to the allergenic proteins. These methods can be used to test for allergens in foods as well as on food contact surfaces.
Among immunoassay methods, microplate ELISAs are the most prevalent. They are rapid, highly sensitive, cheap and relatively easy to perform. ELISA techniques can be used to produce qualitative or semi-quantitative results. They can be easily preformed in most labs using standard lab equipment.
Despite their many advantages, they also have a number of disadvantages. One major drawback is the possibility of interference by the other food ingredients. Some components can cross-react with the antibodies thus producing false positive results. Others may produce coloured compounds making it difficult to read the final result. Multiplexing is not available so each target allergen needs a separate ELISA test kit.
There is also the likelihood of an allergenic protein losing its immunological properties during food processing. Activities such as heating, fermentation and hydrolysis may change the protein structure consequently, preventing it from binding to the specific antigen. This will produce false negatives or reduced quantifications although the partially processed proteins may still be allergenic.
Commercial ELSA kits are available for the main food allergens such as milk, soybean, eggs, crustaceans, peanuts, hazel nuts and almonds. However, assays are not yet developed for all the identified food allergens. Since different ELISA kits targeting different proteins in a particular food are available, it is important to choose a test kit compatible with the allergen that needs to be tested.
Lateral Flow (LFD) or Dipstick Devices
Dipstick devices offer a cheaper and faster alternative for ELISA techniques. Since these devices do not require complex instrumentation or trained personnel they are ideal for use in on-site testing - for monitoring food processing surfaces and checking effectiveness of line cleaning regimes.
DNA-based Techniques
Polymerase Chain Reaction (PCR)
PCR techniques can be used to detect food allergens for which suitable ELISAs are not available. These methods, instead of directly detecting food allergens, detect the genes encoding for the relevant proteins. PCR methods are preferred over ELISA in certain situations such as testing of highly processed food products. Unlike proteins, DNA tends to be relatively unaffected by extreme processing conditions. Thus testing for DNA can produce more reliable results in such situations. Another major advantage is the ability to detect much smaller amounts of an allergen by PCR. Moreover, this method can be used for both qualitative and quantitative assessments. PCR techniques are not affected by interfering food components since DNA is extracted and purified prior to analysis. There are some foods types that are not suitable for allergen detection by PCR, foods such as egg whites and oils whilst containing allergenic proteins do not contain DNA and so cannot be tested for allergens using this technology.
Other limitations of PCR include the requirement for relatively sophisticated lab equipment, more highly skilled technicians and a higher cost per test.
Mass Spectrometry (MS) Based Methods Mass spectroscopy is a less commonly used technique for regular analysis of allergen in foodstuffs. MS-based methods are highly specific and produce accurate results although they are sometimes less sensitive than ELISAs. The use of MS-based methods in routine testing is limited due to the need for very sophisticated lab equipment, complex sample preparation procedures and high cost per test.
Non Specific Methods
Generic methods that detect the presence of proteins or ATPs but are not specific for food allergens also have a role to play. These methods are mostly used for quality control purposes in order to measure the effectiveness of sanitation procedures.
These methods include visual inspection, surface protein swabs and bioluminescence assays. They are quick, cheap, easy to perform and need minimal equipment and training. Thus they are more suitable to be used on-site. However, their specificity is very low.
Selecting a Detection Method
Several requirements should be considered when selecting the ideal allergen detection method. These include the number of allergens; number of samples; testing frequency; required analysis time; nature of the result (qualitative/ quantitative) and composition of the food matrix. Other factors such as ease of use and cost effectiveness also need to be taken into consideration.
Sources:
Gupta, R., Holdford, D., Bilaver, L., Dyer, A., Holl, J. L., & Meltzer, D. (2013). The economic impact of childhood food allergy in the United States. JAMA pediatrics, 167(11), 1026-1031.
Picó, Y. (Ed.). (2012). Chemical Analysis of Food: Techniques and Applications: Techniques and Applications. Academic Press. Pp 701-707.
Motarjemi, Y., & Lelieveld, H. (Eds.). (2013). Food safety management: A practical guide for the food industry. Academic Press. Pp 75-77.
Marija, V. T. C. G. J. (2014). Food Allergens. Springer. Pp 77- 84.
Get the latest updates in Rapid Microbiological Test Methods sent to your email? 
Subscribe to the free rapidmicrobiology eNewsletter
Latest News
Latest Featured Product
Supplier Information
-

PCR Kits




-

Immunology based methods




-

ATP Based Surface testing