VOYAGER – Electronic Pipettes with tip spacing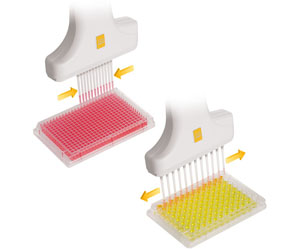 Manufacturer: INTEGRA Biosciences AG
Principle: Air displacement electronic pipetting system with tip spacing
Automation: Yes
Suitability: Reagent additions, transfers between different lab ware formats
Capital equipment required: Yes
Description:
VOYAGER allows changing of the tip spacing electronically with the push of a button. Up to three different tip spacings can be set and saved. Accelerate reformatting of plates, e.g. 96 well plates to 384 well plates, transfers from racked tubes into microplates. VOYAGER are available as 4-, 6-, 8-, and 12-channel model with volume ranges of 0.5 – 1250 µl.
Key Points:
Adjustable tip spacing accelerates plate reformatting and sample transfers between different lab ware formats.
Unique tip fitting design ensures that tips snap into place and will not accidently fall off.
GripTips attach the same way every time to enable precise touching off.
Intuitive touch wheel interface for rapid volume setting and easy programming.