Thermo Scientific Heratherm Microbiological Incubators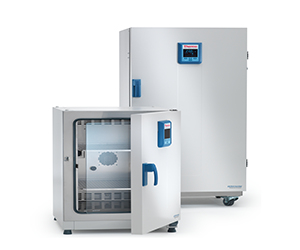 Principle: Ideal conditions for successful incubation of micro-organisms
Automation: YES
Approvals: Verified by independent testing facility (IBFE 9/2010) IQ / OQ documentation available from Thermo Fisher Scientific
Suitability: Ambient +5DegC to 105DegC
Capital equipment required: YES
Description:
Successful incubation is dependent upon the environmental conditions. As such, you need to trust that your valuable samples are maintained in a safe and efficient manner.
Thermo Scientific™ Heratherm™ Microbiological Incubators are designed to provide long-term performance with optimal conditions—and are backed by a two-year warranty on parts and labour, meaning confidence for your investment*.
Thermo Scientific™ Heratherm™ Advanced Protocol Security Microbiological Incubators feature a smooth stainless-steel inner chamber with easy-to-clean, rounded corners, and an intuitive user interface with a large fluorescent display. Units include an internal glass door that allows samples to be viewed without impacting on temperature stability, as well as a lockable outer door.
Units can be stacked on top of each other to save space. No tools or stacking devices are required.
Contaminating microorganisms are reduced to a minimum, due to a decontamination cycle set at 140°C.
Sample safety is also enhanced with an automatic over- and under-temperature alarm to protect the samples and incubator.
See thermoscientific.com or product literature for details.
* Subject to Thermo Fisher Scientific Standard Limited Warranty.
Key Points:
View samples through an internal glass door, without impact on temperature.
Exceptional temperature uniformity.
Containment with automatic overtemperature alarm.
Alarm for temperature deviations.
Easy temperature setting with intuitive user interface.
Easy to remove shelf system.
Easy to clean interior with rounded corners.
Easy to read large display.
Efficient small footprint to optimize laboratory space.
Efficient utilisation of interior with flexible shelf system.
Conveniently stackable without the need for tools or stacking kits**.
**Optional stacking kit only required if decontamination cycle or oven is used below or for stacking different sizes.