Thermo Scientific™ Finnpipette™ F2 manual pipette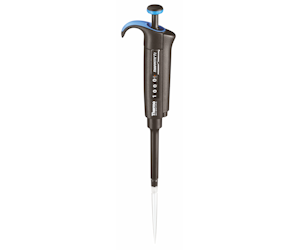 Principle: Manual pipetting system that is fully autoclavable and trusted to provide accuracy and precision with comfort.
Automation: NO
Approvals: Thermo Scientific Finnpipette F2 pipettes are supplied calibrated to ISO8655 standards and warranted to be free from defects in material and workmanship for 5 years
Suitability: For aspirating and dispensing of liquids between 0.2 – 10000µl
Capital equipment required: NO
Description:
Meet the challenges of highly demanding applications where robustness and durability are essential with the sleek, rugged design of Thermo Scientific™ Finnpipette™ F2 Variable Volume Pipettes. Built with tough PVDF components that stand up to harsh chemicals and the damaging effects of UV light, these variable volume pipettes are fully autoclavable without disassembling. They feature a wide selection of expressly designed tips for optimal performance, precision and accuracy.
Available in single-channel and multi-channel formats.
Key Points:
Sleek design
Fully autoclavable
Rugged and durable
Trusted accuracy and precision
Please note : Any products described on this page are for Research Use Only and not intended for clinical diagnostic procedures unless otherwise stated.
Areas:
Clinical

Food & Beverage

Laboratory Equipment

Pharmaceutical

Water