Smart Diluter W - Gravimetric Diluter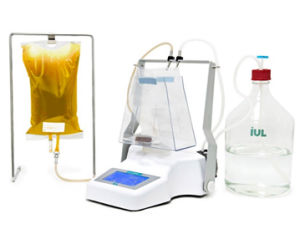 Principle: Gravimetric Diluter
Automation: Yes
Approvals: ISO 7218 and ISO 6887 and FDA BAM Bacteriological Analytical Manual
Suitability: Pharmaceutical industries, medical and veterinary industries, food industries, cosmetic industries, microbiology laboratories, etc.
Capital equipment required: No
Description:
The Smart Dilutor W is the solution for labs seeking full processing capacity and traceability in gravimetric dilutions or liquid dispensing. This device ensures precision, rapidity, sample handling sterility, and detailed tracking of procedures.
It's precise weigh cell and powerful peristaltic pumps provide optimized gravimetric dilutions/ liquid dispensing to food, pharmaceutical, and cosmetic quality control labs. Samples are inserted inside sterile bags that are held by a sterility-ensuring holder. The Smart Dilutor W weighs samples and dispenses an accurate amount of broth, diluting the sample to a configurable dilution factor (rational number). Samples are now ready to be homogenized for further testing.
Key Points:
User friendliness: The instrument is commanded from a touch panel that eases operations, 2-point calibration cuts down calibration time to a few seconds.
Flexibility: The instrument allows for an array of possibilities including multiple diluent usage, linking of two pumps to gain extra dilution speed, liquid dispensing. Diluents can be driven from any ready to use media bag or ISO 4796 lid bottles.
Connectivity and traceability: The device can be used with a barcode reader to drive its advanced traceability features, send information to a printer to print records, or be connected to a LIMS.
Areas:
Food & Beverage

Laboratory Equipment

Pharmaceutical