Ramboldi® Specimen Bags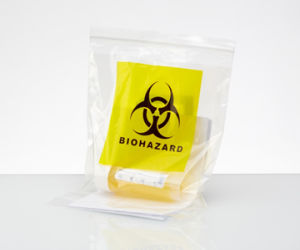 Description:
Keep samples and reports securely together using the Ramboldi® Specimen Bag. Our bags have a secure grip seal closure with document pouch and Biohazard marking for the safe transport of clinical samples and associated paperwork.
Key Points:
Grip seal for secure sample containment
Clear Biohazard symbol for use with potentially hazardous patient samples
Convenient pouch for secure containment of associated paperwork
Please note : Any products described on this page are for Research Use Only and not intended for clinical diagnostic procedures unless otherwise stated.
Company contact details:
DWK Life Science Limited (formerly SciLabWare Ltd.)
view full details
Stoke-on-Trent
Stafford
United Kingdom
Website:
Visit Website
Tel: +44 (0)1782 444406