Monkeypox Virus Nucleic Acid Detection Kit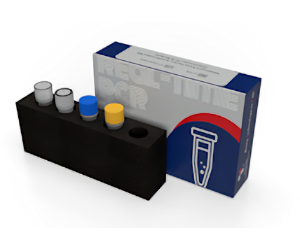 Principle: Real-time RT-PCR method
Automation: YES
Approvals: CE
Suitability: Widely applicable in instruments with FAM,CY5 fluorescence channels
Capital equipment required: YES
Description:
Monkeypox is a viral zoonosis with symptoms very similar to those seen in the past in smallpox patients. lt is caused by the monkeypox virus which belongs to the orthopoxvirus genus of the Poxviridae family. Monkeypox presents with fever, an extensive characteristic rash and usually swollen lymph nodes.The incubation period of monkeypox is usually from 6 to 13 days but can range from 5 to 21 days. WHO recommends that detection of viral DNA by polymerase chain reaction (PCR) is the preferred laboratory test for monkeypox.
Key Points:
Innovative 3-in-1 tube PCR
Innovative single-tube PCR, with reaction solution, primers and PCR enzymes in one tube,minimize time of sample adding
Various Specimen
Oropharyngeal swab, vesicular or pustular lesion fluid, diseased tissue
High Sensitivity
Reliable detection of Monkeypox virus, the limit of detection can be up to 200 copies/mL
More Reliable
Based on Polymerase Chain Reaction(PCR) method, the gold standard for diagnosing monkeypox infection recommended by WHO
More applicable
Widely applicable in instruments with FAM,CY5 fluorescence channels
Please note : Any products described on this page are for Research Use Only and not intended for clinical diagnostic procedures unless otherwise stated.