MAS-100 Atmos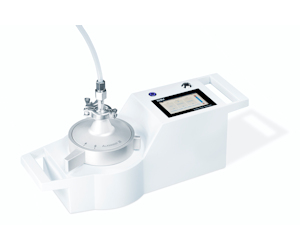 Principle: Viable air sampler based on impaction principle
Automation: YES
Approvals: Meets ISO 14698-1 and EN 17141 GMP Annex 1 and ISO 8573-7
Suitability: Microbial monitoring pressurized air/ nitrogen/ carbon dioxide/ argon
Capital equipment required: 900 mm nutrient plate
Description:
The MAS-100 Atmos is designed for microbiological monitoring of compressed gases. It is used in particular in the pharmaceutical industry, in hospitals as well as in the food and cosmetics sectors. The novel MAS-100 Atmos integrates unparalleled ease of use with comprehensive security while supporting 21 CFR Part 11 compliant workflows with a wide range of features. This unique combination makes the MAS-100 Atmos an indispensable microbial sampler for a wide range of applications. Another plus is the great flexibility in a configuration as well as automatic flow regulation and decompression.
Key Points:
Dedicated for germ collection in compressed gases according to ISO 8573-7, ISO 14698 and EN 17141
Proven and germ-protecting collection principle under pressure
Automatic flow regulation and decompression
Handy design with touch screen for maximum ease of use
Tamper-proof audit trail for transparent and traceable workflow
Optional 21 CFR Part 11 compliant user management
Flexible instrument configuration for paper- or software-based (LIMS/EM) workflows
Comprehensive safety – protection mechanism on sampling head, HEPA H13 protection filter, and optional gas exhaust tube
Please note : Any products described on this page are for Research Use Only and not intended for clinical diagnostic procedures unless otherwise stated.
Areas:
Clinical

Cosmetic/Personal Care

Food & Beverage

Laboratory Equipment

Pharmaceutical