18th June 2012 Content supplied by:
USDA FSIS Issues Letter of No Objection for BAX® System STEC Suite
Hygiena has acquired DuPont Diagnostics, the global food safety diagnostics business of DuPont. Including the BAX® System, RiboPrinter® System, Lateral Flow System, StatMedia™ and Dehydrated Culture Media. Visit
www.hygiena.com/bax.html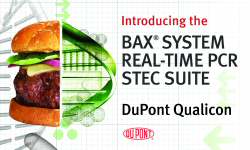 The U.S. Department of Agriculture Food Safety and Inspection Service (FSIS) has issued a letter of no objection to DuPont's claim that the BAX® System STEC suite is comparable to the FSIS reference method MLG 5B.01 for detecting top Shiga toxin-producing strains of E. coli (STEC).
To determine the basis of the claim, the FSIS evaluated robust validation data from the Qualicon Diagnostics business of DuPont Nutrition & Health, comparing the BAX® System to the FSIS reference method regarding low-level inoculum levels, specificity and sensitivity of the method in ground beef and beef trim. Based on that review, the agency has no objection to the BAX® System STEC suite under the validated conditions.
"With FSIS enforcement beginning this month, this letter of no objection helps BAX® System customers to comply with the new policy using a testing method that's acceptable to the inspectors," said Jodie Vanderman, global product manager, DuPont Nutrition & Health Diagnostics. "Fast, reliable tests help streamline the workflow and accurate STEC results allow beef processors to make product release decisions with greater confidence."
A new food safety policy from the USDA adds six STEC serogroups -- O26, O45, O103, O111, O121, and O145 -- to a class of adulterants in beef that include E. coli O157:H7. The BAX® System STEC suite consists of a screening test for virulence genes stx and eae, which allows negative samples to be cleared within an hour, followed by panel tests for positive samples that detect and identify which of the six serogroups may be present. All of these tests are designed to run concurrently with the established BAX® System PCR assay for detecting E. coli O157:H7.
Food processing companies around the world rely on the BAX® System from DuPont to detect pathogens or other organisms in raw ingredients, finished products and environmental samples. The automated system uses leading-edge technology, including polymerase chain reaction (PCR) assays, tableted reagents and optimized media to detect Salmonella, Listeria species, Listeria monocytogenes, E. coli O157:H7 and STEC, Campylobacter, Staphylococcus aureus, Vibrio, and yeast and mold. Many of these tests have been certified by AOAC and AFNOR and/or approved by government agencies in the Americas, Asia and Europe.
Tags:
Date Published: 18th June 2012
Related news