2nd February 2016 Content supplied by: Interscience
Unbeatable Image Quality with Scan® 4000 Ultra-HD Automatic Colony Counter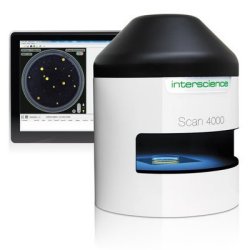 The new Scan® 4000 automatic colour colony counter & inhibition zone reader is adapted to all sizes of Petri dishes and all media culture. With great lighting, get HD images on 100% of your dish with guaranteed full traceability. Among its innovative features are the white LED dome for reflection and shadow free images, the ultra-HD camera, the reading on 100% of the dish and full compliance with international safety standards.
Petri dishes can be difficult to illuminate as they are transparent and reflective. Heterogeneous lighting may create artefacts on the edges of the agar and on the sides of the dish. These artefacts can be mistakenly counted as colonies and lead to inaccurate counting. Interscience have designed a white diffusing dome for 360° lighting without reflections or shadows. The lighting is spread evenly everywhere and allows you to count the colonies on the entire surface.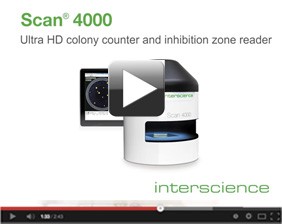 The high resolution camera equipped with a German 5 megapixels CCD camera and a Japanese lens, the Scan® 4000 offers the best image quality of the interscience range. See details you would not see with your bare eye!
The beam splitter enables that even with a white diffusing dome there may be reflections of the camera lens on the Petri dish. We have designed a special mirror with its own lighting enabling to compensate this reflection for a lighting without a single reflection.
Reading on 100% of the surface of the Petri dish is guaranteed thanks to the new design of the bottom lighting includes a glass panel to place the samples. Place your dish anywhere on the surface, the Scan® 4000 detects it and zooms automatically. With its shock-proof glass no fear of accidents! You can then count on 100 % of the surface of the dish even colonies on the edge of the dish. Moreover the black/white background is designed without moving parts to improve the reliability and the speed of changing the background color.
The integrated CFR part 11 of the Scan® software is in compliance with the FDA guidelines, as electronic signatures, audit trail and securing of the results. The management of the operators is integrated in the software for greater security and user-friendliness. The supervisor can manage the accounts and passwords automatically without having to refer to a system administrator.
What's new?
Ultra-high resolution camera
Unequalled lighting with exclusive white LED dome : reflection and shadow free images
Largest reading range on the market : round and square Petri dishes up to ø 150 mm
Complies with EUCAST, CA-SFM, CFR part 21, ISO 15189, ISO 7218, ISO 4833-2, NF V08-034, NF V08-100, AOAC 977.27, CLSI and FDA-BAM.
The image below shows a copy of a printed report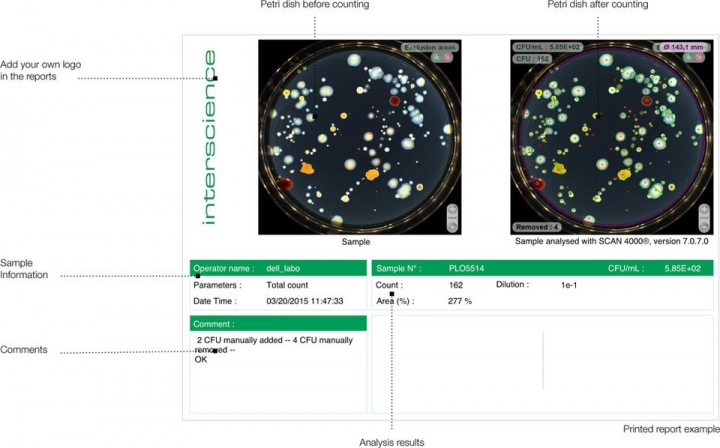 Tags:
Date Published: 2nd February 2016
Source article link: View
Related news