5th September 2008 Content supplied by:
Training Material Facilitates Proper Nasopharyngeal Sample Collection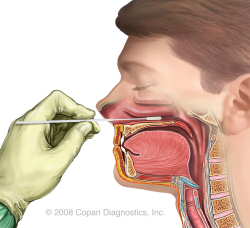 Copan Diagnostics Inc. understands the importance of a properly collected sample, in particular for respiratory virus diagnostics. If specimens are not properly collected, a high rate of rejection with DFA testing could occur because of insufficient quantity of sample (QNS rejection).
A sufficient sample is not only important for DFA testing, but also for Direct Flu A & B and RSV antigen tests. These rely solely on the amount of analyte immediately available because they do not have the benefit of an amplification process. Even molecular-based assays that can amplify the initial signal, need an adequate number of DNA or RNA copies to be effective.
Without an adequate sample, the results of any testing performed on such samples could be seriously compromised. As the 2008 flu season approaches, physicians' offices, hospital clinics, and emergency rooms begin preparations to accommodate large numbers of patients with symptoms of respiratory viral infection. At this time of the year, many microbiologists and infectious disease doctors review their procedures in order to determine if the efficiency and reliability of sample collection and diagnostic test procedures can be improved from the prior year's procedures.
Copan Diagnostics' range of patented flocked swabs have been shown in many independent clinical studies to improve the results of respiratory virus diagnostic tests by collecting more patient specimen and then delivering the entire sample into the assay platform or cell culture tube. Copan Universal Transport Medium (UTM) used with Copan Flocked Swabs is the optimum combination for virology culture and DFA testing; and the use of the combined products is also a universal open platform collection and transport system that has been successfully used for culture, EIA, PCR and other molecular based assays.
However, developing improved devices for collecting and eluting the sample, increasing the volume of target analyte, can only be effective if personnel are properly trained in the techniques for their use and are collecting adequate samples from the optimal and correct site of infection. Quality of the diagnostics is only as good as the quality of the sample. Microbiologists and ID doctors understand this and, as flu season begins, training materials can be of tremendous value to refresh and retrain staff to improve disease diagnostics and patient care.
Copan has supported the development of a series of three comprehensive training videos by medical staff from three institutions in the USA, Canada and Europe, as well as an animated video which describe, in great detail, the procedures to optimize the collection of nasopharyngeal swab samples for the diagnosis of respiratory virus infections. Numerous pediatricians, physicians and microbiologists participated in these videos to describe, in their own words, the different techniques for collecting samples from children of different ages, as well as adults and seniors.
The valuable educational resources created by Copan are available to the public free of charge because the Company truly understands the importance of specimen collection and transport, and it is Copan's mission to continually develop new and innovative products for collection and transport of specimens in the pre-analytical phase of Microbiology. The different video series are available on the company's website:
There is a series of videos presented by Dr. Aleta Bonner of Dell Children's Hospital in Austin, Texas.
Dr. Kevin Fonseca, Clinical Virologist at the Provincial Laboratory for Public Health in Calgary, Canada presents an overview of the appropriate swabs and transport medium, as well as patient information to be collected when taking a nasopharyngeal sample; and he illustrates collection of a nasopharyngeal sample in a child, an adult, and a senior citizen.
Additionally, there is a video series in Italian presented by Professor Nicola Principi, Director and Professor and Susanna Esposito, Associate Pediatrician at the De Marchi Pediatric Clinic, University of Milan, Italy.
To access the training videos, visit http://www.copanusa.com/education/videos/.
The videos also explain with great clarity the depth in which to enter the nasopharynx to collect the best sample from the site of infection even with small babies. Not knowing the correct technique and how deep to enter the nasopharynx often creates anxiety for any novice of sample collection and can consequently lead to a poorly collected sample. For that reason, another tool developed by Copan Diagnostics, Inc. to help train staff is a disposable carton ruler. As simple as the concept sounds, the disposable carton ruler helps the professional collecting the sample measure the distance between the patient's nose and the earlobe to mark the swab and confidently know where to stop when collecting a nasopharyngeal sample. Copan also provides artwork and illustrations to help medical institutions create their own How-To-Collect instructional guides for specimen collection for medical staff.
Overall, the main objective of these free resources is to improve diagnosis and patient care by providing the tools necessary to properly train staff in a crucial part of the process prior to any testing: sample collection and transport. A better sample, will lead to better results, which achieves the ultimate goal of healthcare professionals everywhere: to improve patient care.
Please note : Any products described on this page are for Research Use Only and not intended for clinical diagnostic procedures unless otherwise stated.
Tags:
Date Published: 5th September 2008