7th April 2014 Content supplied by: Roka Bioscience, Inc.
Roka Bioscience Atlas® Complete Listeria Testing Solution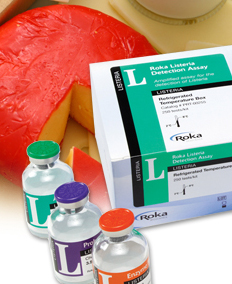 Roka Bioscience's Atlas Listeria monocytogenes LmG2 Detection Assay has received AOAC Performance Tested MethodsSM certification from the AOAC-RI. The independent laboratory study testing was conducted by Silliker, Inc., as part of the AOAC-RI independent third-party evaluation and validation processes.
The Atlas LmG2 Assay is approved for the detection of Listeria monocytogenes from 25-g food samples and an environmental surface after a 24-hour enrichment. Additionally, the assay is approved for 125-g food samples utilizing a single, 44-hour enrichment step.
Combining the Atlas LmG2 Assay with the company's existing Listeria spp. assay completes Roka's Listeria testing solution and augments a product portfolio that now includes Listeria spp., Salmonella, E. coli O157:H7, and STEC.
Tags:
Date Published: 7th April 2014
Source article link: View
Related news