18th December 2019 Content supplied by: Eurofins GeneScan Technologies GmbH
PREraser BACGene: Reliable PCR Results by Elimination of Free DNA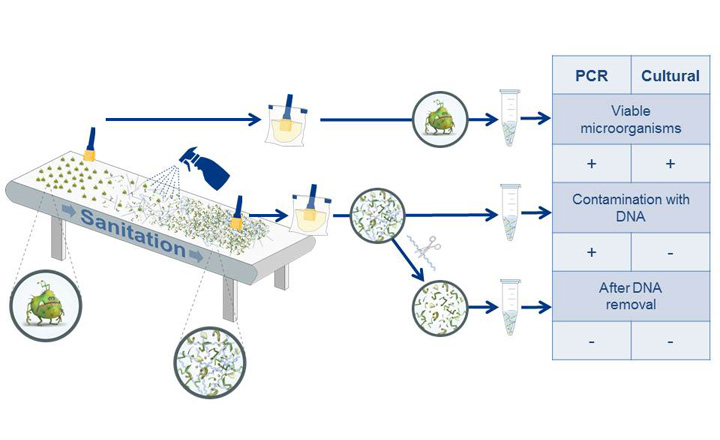 Due to several advantages over traditional cultural detection of pathogens, like shorter analysis times, less hands-on time and higher specificity, real-time PCR based methods represent a valuable alternative in foodborne pathogen detection. Furthermore, PCR is a very sensitive method, so even low concentrations of DNA can be detected and identified. On the other hand, it is not possible to distinguish between DNA from living and dead pathogens using this method. Especially for products with very low confirmation rates like highly processed foods and feed, the culturally unconfirmed detection of free DNA via PCR can result in costly delays.
In order to address this problem, Eurofins GeneScan Technologies has developed PREraser BACGene, which eliminates free DNA from samples and thereby reduces the number of unconfirmed positive PCR results without having a negative effect on living pathogens.
The PREraser BACGene treatment is an optional step after enrichment and prior to lysis, easy to integrate into the workflow of the BACGene real-time PCR kits.
The application has been accepted for certification by AOAC for the following kits (AOAC certification number):
BACGene Listeria Multiplex (#061701)
BACGene Listeria spp. (#061702)
BACGene Listeria monocytogenes (#061703)
BACGene Salmonella spp. (#121501)
According to the technical rules of the AOAC, the external validation study, performed by ADRIA Développement, demonstrates the successful application of the PREraser BACGene treatment for the detection of Salmonella and Listeria strains using the validated thermocyclers (Agilent AriaMx™, Bio-Rad CFX96 Touch™ and CFX96 Touch™ Deep Well) for a representative range of matrices.
The detection of inoculated Salmonella and Listeria strains was not affected and in many cases, even an increased sensitivity was observed when using PREraser. Therefore, it can be concluded that PREraser BACGene exhibits no harmful effects on the viability of microorganisms and the sensitivity of their detection. The validation study has been accepted by AOAC and will be released in the form of extensions to the original certifications.
In addition, the elimination of free Salmonella and Listeria DNA by PREraser BACGene was verified internally for selected matrices and shows the very effective performance of the method.
According to these results, PREraser BACGene can be applied, after verification of the protocol by the individual laboratory, to all relevant certified matrices for the above mentioned BACGene foodborne pathogen detection kits.
Coming soon:
PREraser BACGene treatment is in process of being certified for the application within the BACGene STEC Solution.
For more information, please use the 'request information' button below.
Tags:
Date Published: 18th December 2019