5th July 2017 Content supplied by: IUL S.A.
New IUL Colony Counter Automatically Adjusts for Colony and Agar Type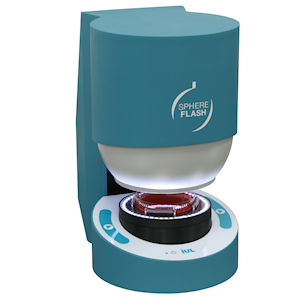 SphereFlash® is the new automatic colony counter from IUL. With powerful new software and a new patented spherical illumination chamber, microbiologists will obtain quicker yet more consistent results.
Once the Petri dish is placed in the unit, the sphere automatically closes the image capture chamber, protecting the plate from any external source of light, and eliminating any reflections; e.g. from the plastic walls of the Petri dish that can be mis-interpreted by the software during image processing.
The new software then automatically adjusts all parameters depending on the colony and agar type to free the user from this tedious and time consuming task. Automatic colony counting has never been so simple and fast.
With Colonies PRO software Upgrade the unit can increase its capabilities; e.g. setting User's Permission Levels, LIMS connectivity, Worksheets, Barcode reading, Reporting, Audit Trail, and CFR 21 Part 11.
With the optional Halos PRO app, the SphereFlash can be transformed to measure inhibition halos.
For more information please visit www.iul-inst.com
Please note : Any products described on this page are for Research Use Only and not intended for clinical diagnostic procedures unless otherwise stated.
Tags:
Date Published: 5th July 2017
Source article link: View
Related news