17th August 2016 Content supplied by: Mast Group Ltd
MASTASTREP™ Rapid Latex Test for Identification of Streptococci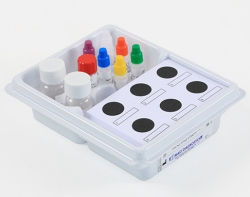 Streptococci are microaerophilic, non-motile, spherical, Gram positive bacteria which often occur as chains on a Gram film and are strict or facultative anaerobes. Streptococci are found in humans and many animals mainly colonising nasal passages, intestinal tract and the mucosal surfaces of the mouth.
Differentiation of β- haemolytic streptococci into Lancefield groups is important for patient diagnosis and subsequent treatment, in particular Streptococcus pyogenes (group A) which is one the causes of necrotizing fasciitis. However, traditional Lancefield grouping techniques are time consuming and laborious. MASTASTREP™(RST201) combines the advantages of latex agglutination technology with a rapid extraction method to provide an efficient system for grouping all streptococci commonly found in human infections.
The MASTASTREP™ is:
User friendly
Colour coded caps for easy identification of reagents
Small footprint for storage
Recyclable plastic container
Convenient
Reagents contained in mini workstation
Rapid
Simple test procedure saves time and is easy to perform
Stable liquid extraction enzyme means no reconstitution or freezing
Easy to read
Rapid, easy to read agglutination patterns
For more information, please contact sales@mastgrp.com
Please note : Any products described on this page are for Research Use Only and not intended for clinical diagnostic procedures unless otherwise stated.
Tags:
Date Published: 17th August 2016
Source article link: View
Related news