19th November 2018 Content supplied by: Sartorius AG
"Magic Lid" - Forceps-free, Effortless Transfer of Membrane Filters"
Microsart® @media are plates pre-filled with different agar media types, sterile-packaged and ready to use together with Microsart® @filter filtration units. With Microsart® @filter and Microsart® @media there's no forceps, no forces just a "Magic Lid" that does the trick!
Solution for Safe Membrane Transfer
The combination of agar media dishes and filter units represents a brand-new membrane transfer and agar concept. Both products were tailored for each other: the active lid of the media dish is designed to fit perfectly onto the filter unit base. Using an integrated adhesive ring in the lid, the membrane filter is effortlessly fixed in the lid after filtration and automatically positioned correctly on the agar plate. With a turn, it's locked, then just incubate and count as usual. A well-conceived system no one else can offer you. Because real heroes deserve only the best.
As just a few steps are all it takes to proceed from sampling to incubation, this new single-use system accelerates your workflow, making it cost-efficient. At the same time, the touch-free membrane transfer enables even more reliable results to be obtained in analysis, as reducing secondary contamination to an absolute minimum.
Applications include - Microbial Limit Testing according to the USP (Chapter <61>) and EP (Chapter 2.6.12 ), bioburden testing, water analyses as purified water or water for injection and efficient, advanced workflows in quality assurance laboratories.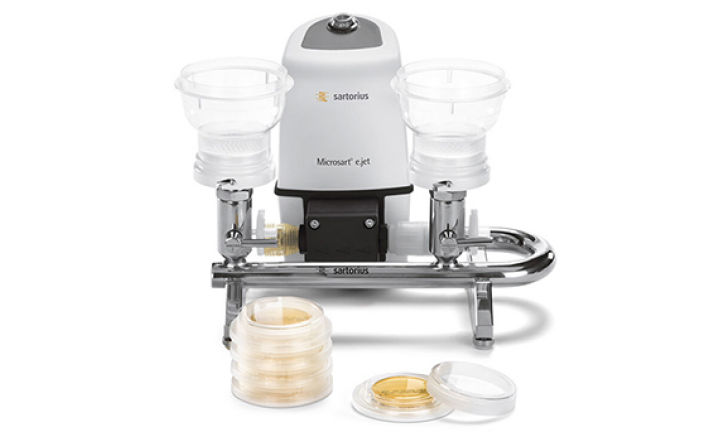 Smart Tools for Real Heroes:
Sterile single-use Microsart® @filter units featuring a click-fit closure
Microsart® @media with the "magic lid" for touch-free membrane transfer
Fully autoclavable, 2-branch manifold Microsart® Combi.jet
Direct liquid transfer through Microsart® e.jet transfer pump allows a minimal footprint
Request a free trial by clicking on the 'Request More Information' button below.
Tags:
Date Published: 19th November 2018
Source article link: View