21st March 2019 Content supplied by: Merieux NutriSciences
Key Food Safety Issues in 2018 and What to Expect in the Future
Mérieux NutriSciences has just released its 3rd edition of its Blue Paper on "European food safety trends, key issues & perspectives". This annual publication continues to build its reputation, year after year and has become established as a key reference book for food safety professionals. The guide reviews the latest data on food safety – from the 'usual suspects' such as Listeria, and heavy metals to the latest emerging issues such as microplastics.
Here, Etienne Casal, Executive Vice-President & Head of Europe at Mérieux NutriSciences discusses with rapidmicrobiology the findings in this 2019 edition and explores some possible key topics for 2020.
1. What are the key food safety findings from 2018 that are covered in this Blue paper?
Every year, together with our experts, we take time to do an in-depth analysis of food safety alerts and product recalls. The general results of this analysis of data from the European RASFF system (Rapid Alert System for Food and Feed) is provided in our Blue Paper 2019 and summarized here in the infographic below.
RASFF Global Trends: The Most Notified Hazard Categories
(Extract from Mérieux NutriSciences Blue Paper 2019)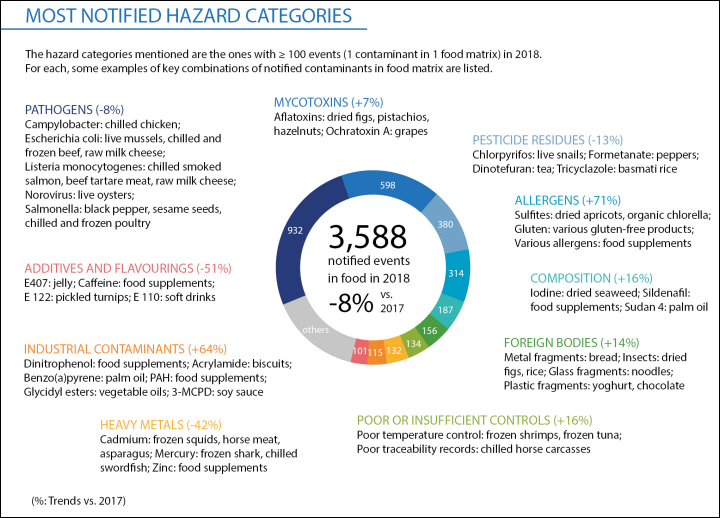 Generally speaking, the willingness of the food industry to improve the quality of their products combined with enhanced regulatory requirements has led to a decrease in notified events in 2018 by -8% (vs 2017).
However, some topics remain of high concern, such as:
the increase of product recalls due to undeclared allergens (+50% in Europe), which remains the number one reason for recalls in Europe and USA
the continuous rise of illness cases due to Listeria monocytogenes
endocrine disruptors, for which we expect a lot of new discussions.
Ensuring food safety and quality is a daily task for food manufacturers. We are committed to sharing with them a high level of knowledge to help them face their challenges of today and tomorrow. The Blue Paper is a great example of our commitment.
2. Why does the guide need updating every year?
As the guide is used as a reference book on Food Safety it has to provide trustworthy and up to date information. We think it is our duty to keep updating this document on a yearly basis to highlight the key facts of the year, the trends and the emerging issues, and in the end, to contribute to the definition or revision of food safety strategies. Our final goal is to protect Public Health as is stated in our company mission.
Of course, we can support food operators on a daily basis with tailored technical advice and through specific solutions such as SAFETY HUD that we launched recently. This online platform allows real-time monitoring of food safety and fraud alerts at international level. It is a key tool to support the food assessment of food products and their raw materials.
3. How has the format been improved for this new edition?
Every year, we try to improve the experience of our readers by considering their feedback, on the contents and the layout. For instance, for this third edition, we have added key highlights on the top of the food safety topic sheets, so that anybody in a company (technical people as well as top management and communicators) can immediately get the most important elements of each topic.
Another example is the guidance now added to the last chapter of the Blue Paper, related to "Future Perspectives", to make it clear on how to read and interpret the information, and detect new issues that are arising.
4. What new topics have been introduced for 2019?
A focus on 6 new food safety topics have been added to the contents of the Blue Paper.  Among them, 'classical' topics but staple, and some emerging ones:
Escherichia coli (E. coli)
Non Intentionally Added Substances (NIAS)
Furans and methyl-furans
Listeria monocytogenes
Metals and metalloids
Microplastics
Moreover, a focus on 3 new food matrices has been introduced: cocoa products, herbs and spices, nuts and seeds. This cross-analysis with entry by food matrices or by food safety issues is essential to get a comprehensive understanding of possible issues and make a proper risk assessment.
5. What do you see as the future trends for food safety, what will be the new topics for 2020 report?
For sure, topics that have recently emerged like endocrine disruptors, NIAS, microplastics and the use of nanoparticles, are already addressed in the Blue Paper 2019 and will continue to drive a lot of discussion. The same goes for more 'classical' topics like neoformed compounds, antimicrobial resistance, virus and pathogens in relation to production environment surveillance. Besides these, Clostridium perfringens, parasites, perchlorates and some new food categories are good candidates for inclusion in future editions of the Blue Paper. Of course, the food safety issues that actually arise in the coming months and years and the in-depth knowledge of our scientific, technical and regulatory experts will guide us in our final editorial choice.
Click here to order the full version of the Blue Paper 2019 or request a free extract.
Mérieux NutriSciences welcomes any comments and suggestions, and these will be taken into account for future editions of this reference book. For any questions, contact Mérieux NutriSciences at services@mxns.com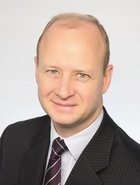 About Etienne Casal - EXECUTIVE VICE-PRESIDENT & HEAD OF EUROPE at Mérieux NutriSciences. Since 2014, Etienne Casal has been head of the European region for Mérieux NutriSciences. He is also a member of the Group Executive Committee and the President of Biofortis, a Mérieux NutriSciences contract research organization specialized in the fields of health and nutrition.
He has previously experienced numerous strategic, business and managerial roles in international context. Etienne Casal was notably Vice-president & Global Head of Certification Business Line at Bureau Veritas.
All in all, he has been involved in strategic management for 19 years and developed a strong knowledge of safety and quality sectors since he graduated with engineering degrees of both Ecole Polytechnique and Telecom Paris.
Tags:
Date Published: 21st March 2019
Source article link: View
Related news