6th June 2016 Content supplied by: Bio-Rad Laboratories, S.A.
iQ-Check® Listeria spp with Free DNA Removal Receives AOAC-PTM Extension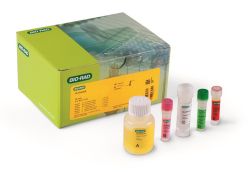 The AOAC Research Institute (AOAC-RI) has approved a method extension of iQ-Check Listeria spp Performance Tested Method℠ #090701. This extension included natural cheese at 125g sample size, environmental surfaces using World Bioproducts' HiCap™ Neutralizing Broth and Letheen Broth, and the iQ-Check Free DNA Removal Solution protocol.
The iQ-Check Free DNA Removal Solution fits seamlessly with current iQ-Check real-time PCR methods, allowing easy high throughput testing of food pathogens. This approach was developed mainly for matrices that undergo heat treatment, like milk or egg powders, or sanitizing processes, like cleaning waters and environmental samples. Its efficiency has also been demonstrated with bacteriophage treated matrices.
Practical, accurate and cost effective, the iQ-Check global solution will increase the productivity of your lab.
For more information on the iQ-Check system for food pathogen testing with one simple protocol visit www.bio-rad.com/iqcheck
Tags:
Date Published: 6th June 2016
Source article link: View