17th April 2012 Content supplied by: Rapid Micro Biosystems
Growth Direct™ Systems for Environmental Monitoring and Sterility Applications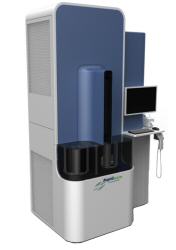 Rapid Micro Biosystems, the provider of rapid, automated, non-destructive detection and enumeration technologies in microbiology, have announced the 2013 availability of the next generation of Growth Direct™ applications. The tests are specifically designed for environmental monitoring and sterility applications in pharmaceutical quality control laboratories.
Representing a quantum leap from the current sterility and environmental monitoring test methods, the applications are based on the detection of natural auto-fluorescence of microorganisms. The Growth Direct™ System requires no additional reagents to detect growing colonies. The Growth Direct™ System for Environmental Monitoring automates the high volume testing typically found in the combination of air, surface and personnel monitoring.
Two results in one: Positive results in hours, with continued incubation for final results in half the time of the compendial method.
Large capacity: Designed to handle high numbers of samples per day.
Added efficiency: Automated reading of all environmental monitoring tests and data transfer to laboratory information systems (LIMS) frees resources for higher value activities.
Actionable reporting: System alerts users immediately and trending analysis uncovers developing problems.
Non-destructive: Analysis is non-destructive, allowing for microbial identification.
The Growth Direct™ System for Sterility revolutionizes pharmaceutical microbial quality control testing while adhering to the stringent regulatory requirements of sterility testing. Features of the system include the following:
Positive results in hours: Early, real-time detection of microbial contamination, allowing for faster response to contamination events.
Non-destructive test: Samples with positive results can continue to grow for additional analysis of the micro organism colony.
Closed-loop sample prep: Aseptic sample preparation and testing of both aerobic and anaerobic microbes.
7 days versus 14: The typical sterility test requires 14 days. The Growth Direct™ for Sterility will provide final results in about half the time.
Quantitative results: An actual colony count (in colony forming units) is provided at the end of the test, with regular count updates throughout the test.
These new applications build on the existing Growth Direct™ technology currently used in FDA regulated manufacturing facilities. As with the Growth Direct™ System for Water and Bioburden, sample preparation mimics the existing method including the ability to integrate to a laboratory information management system (LIMS).
Once samples are loaded, the system uses the natural auto-fluorescence of the living cells to automatically analyze and enumerate any growing colonies. User configurable software allows for the creation of alerts on out-of-specification samples, with reporting in colony forming units (CFUs.) The test is non-destructive and uses no reagents, ensuring the availability of the sample for identification.
"These new applications for automated, rapid sterility and environmental monitoring testing address critical microbial quality control testing needs in pharmaceutical manufacturing. Businesses will be able to react quickly to contamination events while increasing productivity and standardizing their QC processes," said Steve Delity, President and CEO of Rapid Micro Biosystems.
Visit www.rapidmicrobio.com/
Tags:
Date Published: 17th April 2012
Source article link: View
Related news