6th September 2005 Content supplied by: Pro_Lab Diagnostics
From Pro-Lab Diagnostics Pro-Cult® 'First Generation' Cultures - Quality Guaranteed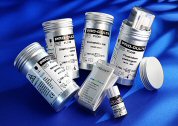 Pro-Cult® discs are designed to provide microbiologists with a simple, reliable, and high quality guaranteed first generation source of bacterial cultures that can be adapted for use in virtually any microbiological test method.
Each Pro-Cult disc is a freeze dried presentation of approximately 106 - 109 viable organisms. Unlike many other cultures derived from recognised culture collections, each lot number of Pro-Cult is guaranteed as "First Generation" directly traceable to its source.
Strains for production of Pro-Cult discs are taken from recognised national collections : ATCC, NCTC or C IP depending on the strain required. The original freeze dried culture is initially grown on appropriate culture media and then suspended in a special solution. This solution is then dispensed as drops and frozen without delay, when frozen, the freeze drying process can begin. This of course sounds very simple, but in practice it is not, full details of the exact production process being naturally of a proprietary nature to the manufacturer.
The resulting Pro-Cult discs can then be reconstituted in liquid media or placed directly onto the solid media. As the discs are extremely hygroscopic, moisture is absorbed from the solid media and the discs become spreadable within a few minutes to give an instant inoculum. This method is particularly recommended for fastidious organisms. All quality control testing used to guarantee the performance of Pro-Cult is UKAS accredited.
Supplied in units of 10 discs with an expiry date up to 12 months from date of manufacture depending on the strain. The extensive range available includes all requirements for BSAC (British Society of Antimicrobial Chemotherapy)
| | | |
| --- | --- | --- |
| Recommended BSAC Strains in Pro-Cult Range | Reference | Pro-Cult Reference |
| Escherichia coli OR Escherichia coli | NCTC 12241/ATCC 25922 OR NCTC 10418/ATCC 10536 | PLD02 OR PLD33 |
| Escherichia coli (beta lactamase producing strain) | NCTC 11560 | PLD63 |
| Staphylococcus aureus OR Staphylococcus aureus | NCTC 12981/ATCC 25923 OR NCTC 6571/ATCC 9144 | PLD13 OR PLD95 |
| Staphylococcus aureus (methicillin/oxacillin/cefoxitin resistant strain) | NCTC 12493 | PLD64 |
| Pseudomonas aeruginosa OR Pseudomonas aeruginosa | NCTC 12934/ATCC 27853 OR NCTC 10662/ATCC 25668 | PLD10 OR PLD65 |
| Enterococcus faecalis (vancomycin resistant strain) | NCTC 12697/ATCC 29212 | PLD18 |
| Haemophilus influenzae (beta lactam resistant strain) OR Haemophilus influenzae | NCTC 12699/ATCC 49247 OR NCTC 11931 | PLD81 OR PLD98 |
| Streptococcus pneumoniae | NCTC 12977/ATCC 49649 | PLD95 |
| Neisseria gonorrhoeae | NCTC 12700/ATCC 49226 | PLD96 |
The BSAC Organisms are available as a set from Pro-Lab Diagnostics (REF PLD100), please remember to advise your choice of recommended alternatives when ordering.
Also Available Klebsiella pneumoniae ATCC 700603 - Pro-Cult reference - PLD 83 ESBL (Extended Spectrum Beta Lactamases) - enzymes that mediate resistance to extended-spectrum (third generation) cephalosporins (e.g., ceftazidime, cefotaxime, and ceftriaxone) and monobactams (e.g., aztreonam) but do not affect cephamycins (e.g., cefoxitin and cefotetan) or carbapenems (e.g., meropenem or imipenem).
Pro-Cult Applications:
To control staining reactions.
Quality control of culture media.
Control of biochemical reactions used in the identification of micro-organisms.
Controlling the accuracy of methods and materials used in the determination of antibiotic susceptibility of bacteria of either the disc diffusion or the serial dilution techniques. (Ref BSAC)
Pro-Cult discs contain organisms of known antibiotic susceptibility and may be used to determine the concentration of antibiotics in blood, CSF, sera and other body fluids.
Pro-Cult Advantages:
Reliable
Easy to store
Adaptable
Directly Traceable to Source
Guaranteed First Generation
Exclusive in the UK from Pro-Lab Diagnostics
For further details on Pro-Cult please contact Mark Reed at Pro-lab Diagnostics, contact details above
Please note that Pro-Cult is only available from Pro-lab Diagnostics to UK customers, for details of availability outside of the UK please contact TCS directly
A special thanks to Julian Beadle, TCS Biosciences, for his valuable contribution to this article. ATCC is a registered trade mark of the American Type Culture Collection.
Please note : Any products described on this page are for Research Use Only and not intended for clinical diagnostic procedures unless otherwise stated.
Tags:
Date Published: 6th September 2005
Source article link: View
Related news