5th June 2020 Product update: rapidmicrobiology staff writer
FDA EUA for 3DMed Automated Nucleic Acid Extraction System and Associated Kits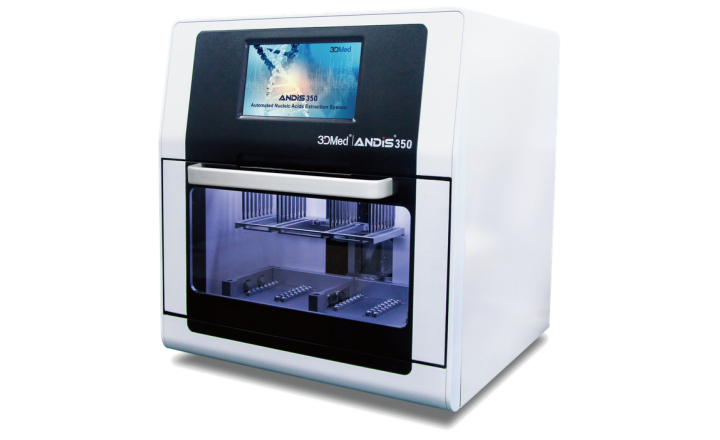 The 3DMed automated high-throughput nucleic acid extraction system (nucleic acid extractor and supporting kits) was approved by the U.S. Food and Drug Administration. Following the approval of NMPA in China and CE certification in the European Union, 3DMed Nucleic Acid Extraction System has once again been recognized by the global regulatory authorities. This is the first automated high-throughput virus nucleic acid extraction system that has been certified by China NMPA, EU CE and US FDA, and can serve the needs of new coronavirus high-throughput nucleic acid extraction in most countries worldwide.
With the global epidemic of new coronavirus, large-scale nucleic acid detection has become the immediate need, and the high throughput demand for nucleic acid extraction is a major bottleneck, and automated nucleic acid extraction is the key to break this bottleneck. However, most of the current nucleic acid extraction systems are manual and inefficient, which cannot meet the demand for large-scale testing of new coronaviruses; they are also time-consuming and labor-intensive, with poor stability, which affects the accuracy of subsequent nucleic acid virus testing. Based on the above pain points, we have launched a simple, efficient, safe and reliable ANDiS®350 automatic nucleic acid extraction system to help fight the global new coronavirus epidemic.
Product Features:
Easy-to-use.
7-inch color touch screen display, built-in computer with Android OS
Pre-loaded reagents & fully automated sample processing, minimal hands-on time
USB supported for system upgrade and program import
Small footprint
Approximately 15.8 in x 15.8 in x 17.8 in, easily fits in any biosafety cabinet, easily transported
Ultra-efficient and rapid
>95% recovery rate of magnetic beads, ultra-high extraction efficiency ·
Turnaround time of 30~60 minutes (reagent dependent)
2,000 samples can be extracted on a daily basis.
Robust and reliable
Built-in UV lamp for preventing contamination, <3% CV for technical replicates
Readily Adaptable
Compatible with different magnetic bead-based nucleic acid extraction reagents
Memory for storing up to 500 programs
Optimized protocols for each sample type
The ANDiS®350 Nucleic Acid Extraction System is suitable for different sample types (serum, plasma, swabs, urine, herpes, etc.) and has been proven in tens of thousands of clinical samples. In addition, when used with 3DMed's 2019-nCov nucleic acid detection kits (ANDiS SARS-CoV-2 and Influenza A&B RT-qPCR Detection Kit and ANDiS SARS-CoV-2 RT-qPCR Detection Kit), the detection sensitivity will be higher and the results more accurate.
Please note : Any products described on this page are for Research Use Only and not intended for clinical diagnostic procedures unless otherwise stated.
Tags:
Date Published: 5th June 2020
Source article link: View
Note: This content has been edited by a rapidmicrobiology staff writer for style and content.