7th September 2016 Content supplied by: Bio-Rad Laboratories, S.A.
Fast, Fully Automated and Robust Food Pathogen Detection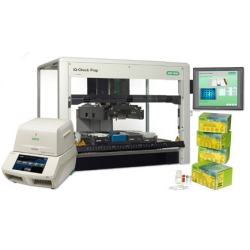 Ideally suited for routine testing in medium to high throughput laboratories, the Bio-Rad iQ-Check® Solution is a complete reagent and instrumentation package capable of delivering food pathogen results from food or environmental samples in as little as 12 hours from sample receipt with true walk-away automation.
Fitting seamlessly into the normal laboratory workflow, the iQ-Check Prep Solution is a totally integrated automated system which includes the iQ-Check Prep liquid handling platform for performing DNA extraction and PCR plate set-up, the CFX96 Touch™ Deep Well real-time PCR thermalcycler and a range of iQ-Check real-time PCR test kits. By combining the power of automation with the accuracy of real-time PCR, the iQ-Check Prep Solution increases confidence in results, delivering high reproducibility and robustness to routine testing labs together with full traceability.
Features and Benefits include:
Complete integrated package - all necessary enrichment media, reagents, equipment and software are included
Fully automated - instruments for DNA extraction, PCR plate set-up, results reading and data analysis with email notification of results and complete LIMS integration
Throughput - suitable for medium or high volume labs up to 500 samples in an 8 hour shift
Flexible system - can run up to 4 different iQ-Check assays simulaneously
Continuous monitoring of pipette steps and liquid levels - ensures accuracy and full traceability for laboratory accreditation requirments
Internationally validated protocols - including AOAC, Health Canada, AFNOR and NordVal
Current food pathogen assay range includes - Campylobacter spp., Cronobacter spp., E.coli O157:H7, Listeria spp., L. mono, Salmonella spp., Salmonella Enteritidis, STEC virulence genes and the Big 7 STEC O groups. Coming soon iQ-Check Salmonella Typhimurium and iQ-Check Enterobacteriaceae
Tags:
Date Published: 7th September 2016
Source article link: View
Related news