30th June 2015 Content supplied by: Transparency Market Research
E.coli Testing Market Expected to Reach USD 2.1 Billion in 2022
According to a new market report published by Transparency Market Research "E.coli Testing Market - Global Industry Analysis, Size, Share, Growth, Trends and Forecast 2014 - 2022," the global E.coli testing market was valued at USD 1.2 billion in 2013 and is estimated to reach USD 2.1 billion by 2022 at a CAGR of 6.58% from 2014 to 2022.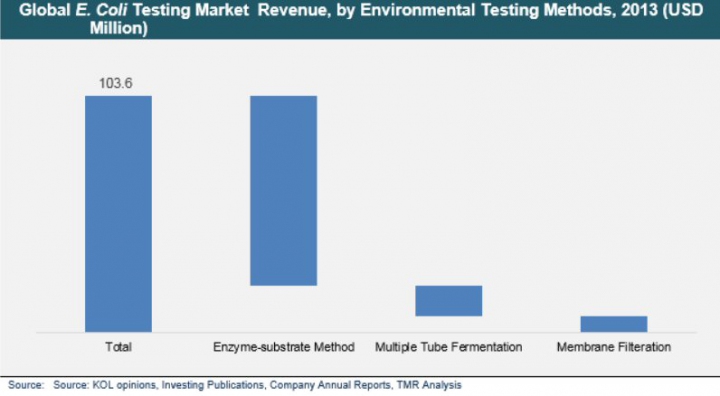 Environmental Protection Agency (EPA), U.S.has approved three methods for testing environmental water samples; these include membrane filtration, multiple tube fermentation or most probable number (MPN), and enzyme-substrate reaction based presence or absence (P/A) tests. MPN is one of the oldest method of E.coli enumeration, and is being replaced by membrane filtration method to a large extent. With membrane filtration method, large volume of water samples can be tested, and more accurate results can be provided as compared to multiple tube fermentation method.
P/A tests are qualitative tests that produce colored substrate indicating presence of E.coli in water sample. P/A test is easy to perform, and does not require a skilled personnel. Further sophisticated laboratory equipment are not required for accurate test results; wherein only a small or medium size incubator is required to store test bottles. Due to these factors, P/A tests are rapidly capitalizing the E.coli testing market. Based on similar principal, the P/A tests have been modified to provide quantitative MPN count of E.coli in water sample. IDEXX Laboratories Colilert, Colisure, and Quanti-Tray are leading products in the market approved by the EPA. Various local players manufacture similar qualitative tests, however due to the absence of standard regulatory approvals, these tests do not contribute significantly to the overall market.
From the point of view of test kits, P/A test kits account for majority of the volume sale; however, from the point of view of number of tests performed, membrane filtration method takes the lead.Key reason being majority of the membrane filtration tests are not performed using ready-to-use kits; individual laboratory apparatus are used to perform the tests.This trend is more evident in low- and middle-income countries, as this is a cost effective alternative to P/A test kits. Revenue wise enzyme-substrate tests account for 80% of the market share, while volume wise these tests account for 40% share.
In 2013, Europe dominated the global E.coli testing market due to outbreak of foodborne infection in Germany in 2011 caused by Escherichia coli O104:H4 strain. In addition, rapidly growing bottled water industry also support the dominance of the region. The E.coli testing market in Asia Pacific was valued at USD 14.99 million in 2013 and is expanding at a CAGR of 6.92% from 2014 to 2022.Asia Pacific consists of the most promising economies such as India and China, while Japan is a leading market in the region. Water pollution has become a major crisis in China. An article published in Nature in June 2014 stated that over 200 million individuals fall ill due to acquisition of water borne diseases in China each year.
Key players in the E.coli clinical testing market include Abbott Laboratories, Danaher Corporation, bioMerieux, Enzo Life Sciences, Inc., DiaSorin S.p.A., F.Roche Diagnostics, Thermo Fisher Scientific, Inc., Hologic, Becton, Dickinson and Company, and Bio-Rad Laboratories.
Browse the full E.coli Testing Market (Environmental Testing and Clinical Testing) - Global Industry Analysis, Size, Share, Growth, Trends and Forecast 2014 - 2022 report at www.transparencymarketresearch.com/e-coli-testing-market.html
Tags:
Date Published: 30th June 2015
Source article link: View