2nd September 2015 Content supplied by: Beckman Coulter Inc.
New DxN VERIS Molecular Diagnostics System at ESCV Edinburgh
Unique System Proven to Improve Laboratory Workflow and Productivity for Infectious Disease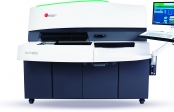 Beckman Coulter Diagnostics is showcasing its DxN VERIS Molecular Diagnostics System* at the European Society for Clinical Virology (ESCV) meeting in Edinburgh, Scotland, 9-12 September 2015 on booth G5 where delegates can learn more about this new instrument that is set to revolutionise laboratory workflow.
Recent evaluations undertaken in the UK and Spain have shown that DxN VERIS is simple to use (routine operator training taking approximately 20 minutes from start to full system operation), dramatically reduces hands-on time (as only one instrument is required that incorporates extraction, amplification and detection), provides true single sample random access allowing multiple assays and samples to be run at the same time, and enables laboratories to go from sample to auto-verified result in just 70 minutes.
Assays are supplied in a unique, single cartridge system so, unlike traditional batch-plate systems, there are no empty wells, reducing wastage and consumable costs. With the DxN VERIS Molecular Diagnostics System, all necessary consumables and reagents are on-board, so there is no lengthy set-up and tests can be up and running in less than 10 minutes.
The system is fully CE-marked, with assays for Human Immunodeficiency Virus (HIV-1), Hepatitis C Virus (HCV), Hepatitis B Virus (HBV) and Human Cytomegalovirus (CMV). Further menu expansion will follow with many other assays currently in development.
Please note : Any products described on this page are for Research Use Only and not intended for clinical diagnostic procedures unless otherwise stated.
Tags:
Date Published: 2nd September 2015