26th September 2017 Content supplied by: Bruker Corporation
Bruker Acquires MERLIN Adding Speciality AST and ART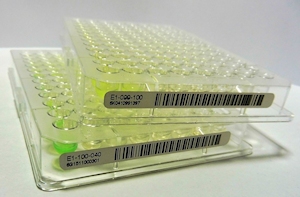 Bruker has announced the closing of its acquisition of MERLIN Diagnostika GmbH, located near Bonn, Germany. MERLIN has in-depth expertise in products, services and consulting in the fields of antibiotic resistance testing (ART) and antibiotic susceptibility testing (AST). MERLIN's technology and product portfolio for human and veterinary antibiotic resistance and specialty susceptibility testing further expands Bruker´s microbiology business, which is based on rapid, broad-based microbial identification using Bruker's market-leading MALDI Biotyper (MBT) platform for proteomic fingerprinting.
The principle of the MERLIN MICRONAUT™ system for specialty susceptibility testing is the phenotypic detection of microbial growth inhibition in the presence of antibiotics. Its microdilution procedure is a standardized, globally accepted reference method for the determination of minimal inhibitory concentrations (MICs). Standard and special AST plates are available for in-vitro diagnostic use according to the EU directive EC/98/79 for a wide spectrum of clinically important microorganisms. MERLIN's focus is on the detection of major resistance phenotypes, i.e. MRSA, VRE, MBL, ESBL, KPC, AMP-C, and OXA-48. In addition, MERLIN has the ability to customize antibiograms for more than 200 antibiotics. Due to this flexibility, the MICRONAUT system enables laboratories to adjust their testing profiles to the rapid spread of certain new resistances. MICRONAUT software for identification and susceptibility testing includes an expert plausibility check, and has for several years already offered an interface to Bruker´s MALDI Biotyper.
MERLIN is a member of the German Diagnostic Industry Association (VDGH) and the Paul-Ehrlich-Society for Chemotherapy, and MERLIN is involved in various studies related to antibiotic resistance, e.g. the monitoring of drug resistance among clinically relevant pathogens in Germany and central Europe. For such multicenter studies involving human and veterinary medicine, MERLIN offers the design and production of dedicated MIC study plates, as well as scientific consulting and support. MERLIN acts as a reference laboratory for annual inter-laboratory tests by the INSTAND organization (www.instand-ev.de) for quality assurance in microbiology.
MERLIN will continue to serve all existing collaboration and distribution partners, as well as all OEM customers and end customers after the acquisition.
Please note : Any products described on this page are for Research Use Only and not intended for clinical diagnostic procedures unless otherwise stated.
Tags:
Date Published: 26th September 2017
Source article link: View
Related news