12th October 2015 Content supplied by: Seward Limited
Blender for Large Composite Samples Highlighted at India Lab Expo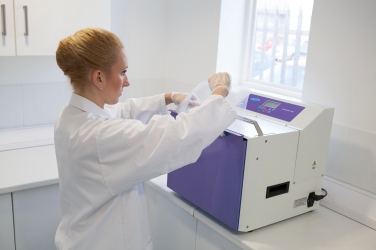 Seward Ltd. exhibited its range of original Stomacher® laboratory paddle blenders and accessories used in sample preparation for microbiological analysis at the recent India Lab Expo 2015 in Hyderabad.
Included on the stand was the newest addition, the heavy duty Stomacher 4500. This large volume blender complements the Stomacher 400 Circulator laboratory paddle blender - the work horse of many food testing laboratories worldwide, preparing for analysis over 8 million food samples per day.
This is the first time that Seward had exhibited to the Indian laboratory market where the Company's India Business Manager, Umang Bhambri, as well as Technical Director, Stuart Ray, was on hand to discuss microbiological food safety considerations and Seward's range of laboratory blenders and associated Stomacher bags, bag racks and clips. They also demonstrated how by using high quality Stomacher technology, this crucially ensures the extraction of all microbial contaminants from within a food sample.
The robust new Stomacher 4500 laboratory blender is specifically designed for large volume food testing procedures, such as the FDA's Bacteriological Analytical Manual (BAM), where 375g composite samples are required for the microbiological analyses of food 1. This new blender provides food laboratories with a high performance, high quality blender capable of homogenising sample volumes ranging from 1000 to 4500mL. Highly efficient, the new Stomacher 4500 also has programmable settings to ensure the best preparation protocol is used for microbial extraction, depending on the food sample under analysis.
Reference: 1 Andrews, WH and Hammack, TS. Bacteriological Analytical Manual: Chapter 1 - Food Sampling and Preparation of Sample Homogenate. FDA 2003.
Tags:
Date Published: 12th October 2015
Source article link: View
Related news