2nd June 2016 Content supplied by: Döhler
BAT & Guaiacol Detection Kit – Complete Solution for Alicyclobacillus Detection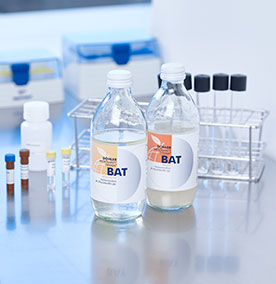 The ready-to-use BAT Culture Media and the enzymatic Guaiacol Detection Kit allow guaiacol-producing Alicyclobacilli to be detected quickly and reliably in fruit juice and beverages containing juice.
This simple detection complies with IFU – International Fruit Union Method No. 12A: "Method on Detection of taint producing Alicyclobacillus in Fruit Juices".
Alicyclobacilli enter the production process via spores, which can survive pasteurisation and, under ideal conditions, continue to grow vegetatively. The products' appearance remains unchanged – no gas formation or discolouration occurs. But some of the Alicyclobacilli can produce guaiacol, which causes a strong chemical smell and taste comparable to disinfectants. Reliable and fast detection and identification of these strains is therefore crucial.
The ready-to-use BAT Culture Media includes the BAT Broth for the selective liquid enrichment of especially cloudy samples and beverage raw materials, and the BAT Agar, which provides quantitative results from membrane filtrations, swab samples or pour plate procedures.
The Guaiacol Detection Kit enables the enzymatic transformation of slightly yellow guaiacol into clearly visible brownish tetraquaiacol. A simple visual analysis without additional technical equipment provides reliable information on whether guaiacol-producing alicyclobacillus strains are present.
The BAT media & Guaiacol Detection Kit provide:
Flexible format for immediate use – ready-to-use culture media and clear enzymatic detection of off-flavour producing Alicyclobacilli
Fast results – fast bacterial growth using growth-promoting nutrients
Simple screening – reliable visual analysis with enzymatic detection of guaiacol
Would you like more detailed information about the BAT Culture Media & Guaiacol Detection Kit? Please visit www.doehler.com and discover our innovative products.
Tags:
Date Published: 2nd June 2016
Source article link: View