23rd May 2017 Content supplied by: Promicol B.V.
ATP Bioluminescence Rapid Testing of Soya and Cereal Based Products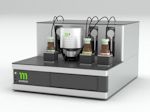 Nowadays organic, vegetable-based, natural and not modified products are getting more popular, therefore microbial safety of that kind of products is an important issue as well.
The Promicol system provides a rapid and reliable method for testing microbial ATP content in Soya and Cereal based products. It is currently used by international companies to routinely release finished products. The 2 days pre-incubation time at 30 °C provides companies a saving of several days over the current traditional test methods for release of their products saving a lot of money and warehouse capacity.
The test procedures are simple, do not require any sample preparation and are very easy to use. The Promicol system can process and automatically analyze the data from approximately 100 samples within a maximum of 45 minutes (depending on product type), offering significant reductions in labor costs.
The Promicol system and microbial ATP test kit for Soya and Cereal based products can test a wide range of Soya and Cereal based products. Some examples are listed below:
Soya drinks - Spelt drinks - Oat drinks - Rice drinks
Hazelnut drinks - Almond drinks - Coconut drinks - Cashew drinks
Flavored drinks - Drinks with additives - Plant based cream - Desserts
For testing, the pre-incubated packages need to be shaken properly before sampling to ensure a homogenous sample. 50 μl aliquots of each product are placed in a microplate well and the Promilite M4 instrument performs the assay automatically by using the implemented protocol which is described below:

First, samples are treated with specific reagents to remove all sources of non-microbial ATP from the samples. This step is crucial to ensure highest sensitivity of the assay. Afterwards a microbial extractant is added in order to release any microbial ATP from microorganisms present in the sample. In the end the firefly enzyme is used to turn the released microbial ATP into light. This is measured by the Promilite M4 instrument and expressed in Relative Light Units (RLU). The software automatically classifies the measured values as pass, re-test or fail and therefore enables an easy interpretation for the user.
Promicol aims to develop a long term relationship with its customers, built on trust, innovation and expertise. It is our goal to provide a service that is in touch with the needs of your quality management and to your demands from rapidly changing markets, making ATP work for you, together with you.
Visit www.promicol.com/applications/soya-and-cereal-based-products
Tags:
Date Published: 23rd May 2017
Source article link: View
Related news