Upcoming Events: Pharmaceutical, 2023-01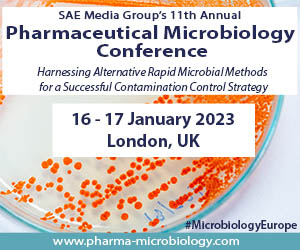 : 16 Jan 2023 - 17 Jan 2023
: London, United Kingdom
Sector: Pharmaceutical Type: Conference - In person
Summary : This conference will explore the most pressing topics in pharmaceutical microbiology, from the movement toward process automation and reduction in operator-product interaction, to the latest technologies in rapid microbiological testing methods and data integrity. more...
: 31 Jan 2023 - 2 Feb 2023
: London, United Kingdom
Sector: Clinical, Microbiome, Pharmaceutical Type: Conference - In person
Summary : The 7th Microbiome Movement - Drug Development Summit Europe will unite Europe's leading drug developers and microbiome experts to share their latest discoveries on microbiome functionality, translation, clinical development, biomarker discovery and manufacturing scale-up. more...