Probiotics and Prebiotics Congress USA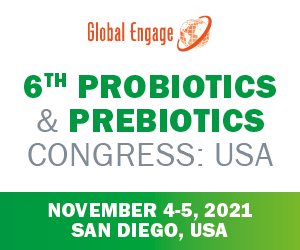 : 4 Nov 2021 - 5 Nov 2021
: San Diego, United States
Sector : Microbiome
Type : Conference - In person
The 2021 meeting features numerous presentations on probiotics discovery and product development, as well as prebiotics, diet, and nutrition. Alongside a number of case studies on digestive health, metabolic diseases, aging, skin health, and allergy, the conference highlights the developments in personalised nutrition and explores strategies for commercialisation. 
New for 2021: numerous updates on how personalised probiotics and nutrition are delivering a range of health benefits. Plus you have access to the stream exploring probiotics and microbiome for Infant and Women's health.
A panel will explore the various sources of funding for microbiome products with a further panel on the potential Skin Microbiome research. Expert-led round tables will provide delegates with a forum to discuss a range of topics such as the infant microbiome, manufacturing, funding, and the skin microbiome.
Register here or use the green "Request Information" button below to contact the event organiser for more details.
Details

Venue
San Diego
United States
Organizer
Global Engage
Phone : +44 (0)1865 849841
Email : info@globalengage.co.uk