New and Emerging Methods in Microbiology - New Date to Be Advised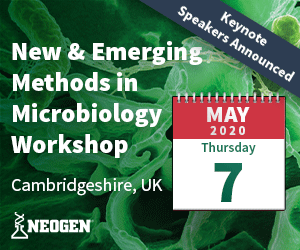 : 7 May 2020
: Hinxton, Cambs, United Kingdom
Sector: Food & Beverage
Type: Workshop
Focusing on the latest advances, news, and trends within the industry, we have put together a detailed programme suited to both food manufacturers and commercial laboratories alike.
Learn about a range of topical issues including identification and confirmation methods, unique rapid testing solutions, and how to implement an alternative method in your facility. On the day you will be able to meet and share knowledge with our range of internal and external speakers.
The event is free to attend, we will shortly be in touch with further details including our full agenda but don't delay and register to reserve your space today!
Details

Venue
Hinxton, Cambs
United Kingdom
Organizer