Microbiome Connect: Gut Therapeutics Europe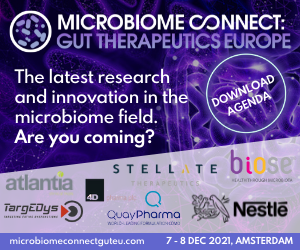 : 7 Dec 2021 - 8 Dec 2021
: Amsterdam, Netherlands
Sector : Microbiome
Type : Conference - In person
As microbiome targeting therapeutics move closer to commercialization, key regulatory, manufacturing, and supply chain challenges become apparent. At Microbiome Connect: Gut Therapeutics EU, you will find solutions to these challenges and more.
If you are trying to understand the gut microbiome on a metabolic, mechanistic level in order to develop small molecule, single strain, or consortia, come and join our expert speaking faculty of academic and industry leaders as they share the latest pre/clinical data or upskill your manufacturing capabilities to meet clinical and market demand.
Experience two full days of innovation, discussion, and networking opportunities to further develop your knowledge and explore business opportunities in the gut microbiome therapeutics field.
Visit the event website here or contact the organiser for details using the green "Request Information" button below.
Microbiome Connect: Where innovation meets industry.
Details

Venue
Amsterdam
Netherlands