Join Charles River Microbial Solutions at the PDA Global Conference on Pharmaceutical Microbiology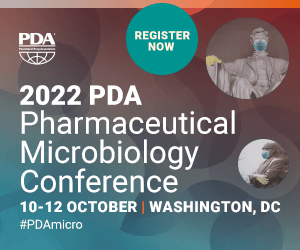 : 10 Oct 2022 - 12 Oct 2022
: Washington, United States
Sector : Pharmaceutical
Type : Conference - In person
Join Charles River Microbial Solutions at the PDA Global Conference on Pharmaceutical Microbiology 
This event continues the ongoing tradition of addressing the most relevant challenges and opportunities impacting the future of quality control microbiology today. Join new and seasoned professionals from all facets of the microbiology field, including industry, academia, and regulatory authorities, to share insights on how to best prepare for the future through the sharing of best practices, development of standards, and integration of innovative technologies.
Visit us during the event at our booth and see how we can help support you and expedite your time to market with our Rapid Microbial Methods. We will be showcasing our Celsis Advanced II™, Celsis Adapt™, and Endosafe® FDA-licensed cartridge technology.
Don't forget to pick up our Microbial Solutions calendar, where we are featuring his year's theme, Untold Stories of the #Microphyles Learn the stories from colleagues on strange happenings in their environment.
Don't miss out on our presentations in the Exhibit Hall:
Rapid QC testing & smart manufacturing with Charles River
Presented by Ti Patel, Microbial Solutions, Charles River
Impact of pandemic management on microflora in Pharma environments
Presented by Jessica J. Rayser, MS, Associate Director, Charles River
Review of contamination control strategies based on FDA warning letters
Presented by Mirna Vazquez, Associate Product Manager, Charles River
Find out more or contact the supplier for more details using the green "Request Information" button below
Details

Venue
Washington
DC
United States