bioMérieux Annual Evening Symposium at PDA Micro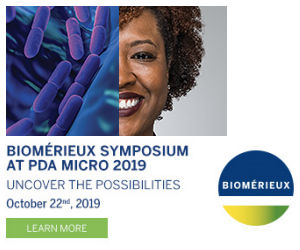 : 22 Oct 2019
: Rockville, United States
Sector: Clinical, Pharmaceutical
Type: Seminar
"Uncover the Possibilities" at bioMérieux, Inc.'s Evening Symposium
Register for the bioMérieux Annual Evening Symposium at PDA Micro on Tuesday, October 22, 2019. We will start with a welcome cocktail with fun games, followed by presentations and dinner.
Learn about:
The Need for Speed (and Ease): Automated Mycoplasma Testing in ~1 hour
Evaluation of a Recombinant Factor C Assay for QC Endotoxin Testing
Modernizing Environmental Monitoring - Industrial Collaboration in Action
Make sure you stop by booth #200 beforehand and get clues for this special night. We're looking forward to seeing you soon!
Details

Venue
Rockville
United States
Organizer