Thermo Scientific™ Pipette Tips for Automated Systems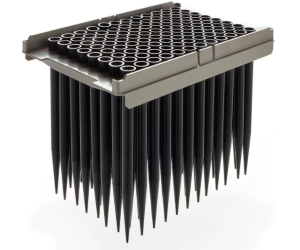 Principle: Automation tips, designed and tested on the actual workstation it is to be used on to provide accurate and precise automated liquid handling
Automation: Yes
Approvals: During production and before final release, the automation tips undergo thorough quality inspection in four specific areas: visual, dimensional, functional, and purity
Suitability: Thermo Scientific™ automation tips designed to fit over 50 liquid handling workstations
Capital equipment required: No
Description:
Achieve accuracy and precision with our portfolio of over 300 Thermo Scientific™ automation tips designed to fit over 50 liquid handling workstations. Our tips are quality controlled, providing the reliability and consistency you count on to perform liquid handling applications. Each tip undergoes a rigorous 15-point quality control process to help ensure consistency, superior tip straightness, and a low coefficient of variation. Sterile tips are certified free of RNase, DNase, DNA, endotoxin, bioburden, and pyrogen.
Key Points:
Broad portfolio to fit leading liquid handling workstations
Accurate and precise performance
Low percentage Coefficient of Variation (%CV)
Validated and tested on the actual workstation, the tip is to be used for
Please note : Any products described on this page are for Research Use Only and not intended for clinical diagnostic procedures unless otherwise stated.
Areas:
Clinical

Food & Beverage

Laboratory Equipment

Pharmaceutical

Water